Wild Bill Hickok Rodeo - *CANCELLED*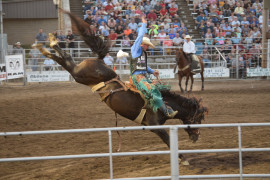 Details
The Wild Bill Hickok Rodeo, named one of the top 5 professional outdoor rodeos in America for 1995, 2001, 2002, 2010, 2011 and 2016; and the Top Large Outdoor Rodeo in the Prairie Circuit for 2003, brings you America's original extreme sport. The 2019 rodeo had a total number of 393 entries with a payout of over $90,000. Total added money has increased from $37,500 to $50,000 for 2019.
Nearly 500 cowboys and cowgirls, world champions and the "young gun" contenders alike, make their way to Abilene each year to compete for prize money and the hopes of adding points to qualify for the National Finals Rodeo.
Update:
To the Dickinson County and surrounding communities:
The Central Kansas Free Fair Board has made the decision to cancel all public events for the 2020 fair. The public events include: the Wild Bill Hickok Rodeo, the demolition derby, tractor pull, parade, carnival, open class judging, and other entertainment events. This decision was not made lightly and has taken into consideration guidance from the Dickinson County Health Officer, K-State Research and Extension, the Kansas Department of Agriculture, and city and county officials. The Fair Board also took into great consideration the financial impacts that the COVID-19 pandemic has placed on families, businesses, and the fair board. We appreciate everyone's understanding of this decision and look forward to making the 2021 fair bigger and better.
The focus of the 2020 fair will be given to the 4-H members. We want to give our 4-Her's the opportunity to have their exhibits judged in a safe and healthy environment. These judging events, including livestock shows, will not be open to the public and access to the fairgrounds will limited to exhibitors, immediate family, event volunteers, and staff. Every effort will be made to video shows and photograph exhibits so the public has access to view them online.
Please look for further updates on the livestock auction. The sale committee will be posting information within the next week on the steps being taken to make sure that our exhibitors receive recognition that is due for their hard work and dedication.
Once again, please know this decision was not made easily. We look forward to the continued support and the 2021 fair.
Sincerely,
The Central Kansas Free Fair Board
---