Abilene Travel Information Center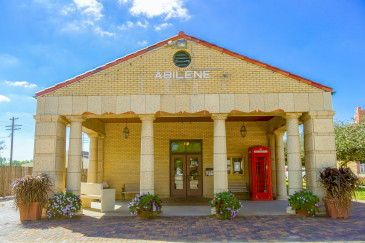 In 1911, Dwight D. Eisenhower departed from this site for West Point Military Academy. He would use this depot to return home often after 1928. His funeral train arrived here in 1969.
California architect, Gilbert Stanley Underwood designed Abilene's Union Pacific Railroad Depot and the matching freight depot to the West, in the Spanish Colonial Revival style. The building was constructed in 1928 and passenger service began in 1929. 

Dwight D. Eisenhower departed Abilene from this site in 1911, for West Point and his future military career. At that time there was an older 3-story depot/hotel building located on the site. The official end of the Chisholm Trail, the original site of Texas Street and the Historic Post Office Block can be seen from the East portico entrance. 

When the UP Railroad announced intentions to close the depot building in 1986, a community-wide campaign was launched to preserve the depot. Renovation costs were shared equally between city funds & community fund-raising efforts. 

The Abilene Civic Center was officially dedicated in 1988 as a public-use facility. Both the passenger depot and the freight depot were placed on the National Register of Historic Places in 1991. 
Hours
Monday-Friday - 8:00 am - 5:00 pm
Saturday - 10:00 am - 4:00 pm
Sunday - Closed
Contact
Call: (785) 263-2231
Toll-Free: (888) 569-5915
Website: Visit Site
Map
---