The Farmhouse - TEMPORARILY CLOSED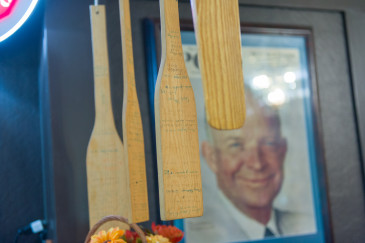 **TEMPORARILY CLOSED**
The Farmhouse Will Be Closed For Renovations
While these renovations are exciting, we unfortunately must close the restaurant to bring something truly extraordinary to our patrons. We know how important this restaurant is to the Abilene community, and we want to honor its place in the city's history.
Our goal is simple – we want to make it better than before. We plan on achieving this by enhancing the overall menu and focusing extensively on making it as fresh and locally sourced as possible. Additionally, we will be modernizing the building as much as possible, ensuring future generations experience the landmark for years to come. 
JRI Hospitality plans on re-opening the restaurant sometime in late 2022 as a farm-to-table experience.
Providing humble service and comforting classic favorites for over 80 years, The Farmhouse stands as a landmark of the town's rich history and cuisine.
Ike Fact: The Farmhouse, formerly Mr. K's Farmhouse and Lena's "farmhouse on the hill', is the location of many families and celebratory meals. Although many a story has circulated about this place, none more fascinating or humorous than the one which occurred in 1965 when President Eisenhower came face to face with a long-honored tradition at Lena's. It was the day the 34th President became "just an ordinary American citizen". While dining at Lena's he watched a first world's series game on television with friends and received an early 75th birthday paddling from Lena and one of her trademark paddles, which was signed and hung on a wall for all to see.
Hours
Closed Mondays
Map
---