5 Cool Signs You Need to See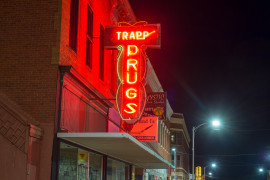 Sign, sign, everywhere a sign. Whether you're driving the highway or downtown streets, signs are everywhere you look. Which signs catch your attention?
Here are some of our Abilene favorites!
This iconic sign is featured in many historic photos of downtown Abilene including this one:
Doesn't this remind you of Bedford Falls in the holiday favorite It's a Wonderful Life?
4. Trapp Pharmacy - 204 N Cedar
5. Bankes / Auburn Pharmacy - 1518 N Buckeye Ave
And more!
These aren't the only spectacular signs you'll see in Abilene. Make sure to check out the custom signs at Lumber House True Value at 1903 N Buckeye Ave and Holt Motors at 321 N Spruce St. Both are not only impressive, but they were also made locally by Fluters Creek Metal Works.
---