C.L. Brown and his Affect on Abilene, Kansas
Someone who deserves more credit for the changes he brought to Abilene, Kansas is Cleyson LeRoy Brown.  It seems like many people forget or do not even know about what Brown did for his community.  A successful businessman, Brown decided to focus on many community improvement projects late in his life.  Whether you know it or not, the legacy of Brown can be seen in the area around Abilene to this day.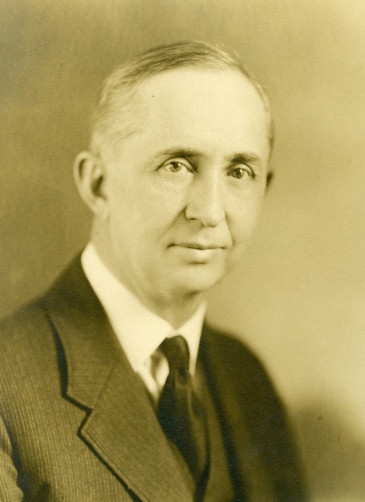 Brown was born February 3, 1872 in Brown's Mill, Pennsylvania.  He was the oldest of Jacob and Mary Brown's five children.  The family decided to move to Dickinson County, Kansas with a sect of the Church of the Brethren in 1880.  Jacob Brown owned a grist mill on the Smoky Hill River south of Abilene.  At the mill, the Browns would saw wood and grind grain for local farmers.  C.L. helped with various work at a young age, and was met with an accident at the age of nine.  In 1881, C.L.'s right elbow was crushed by a piece of equipment.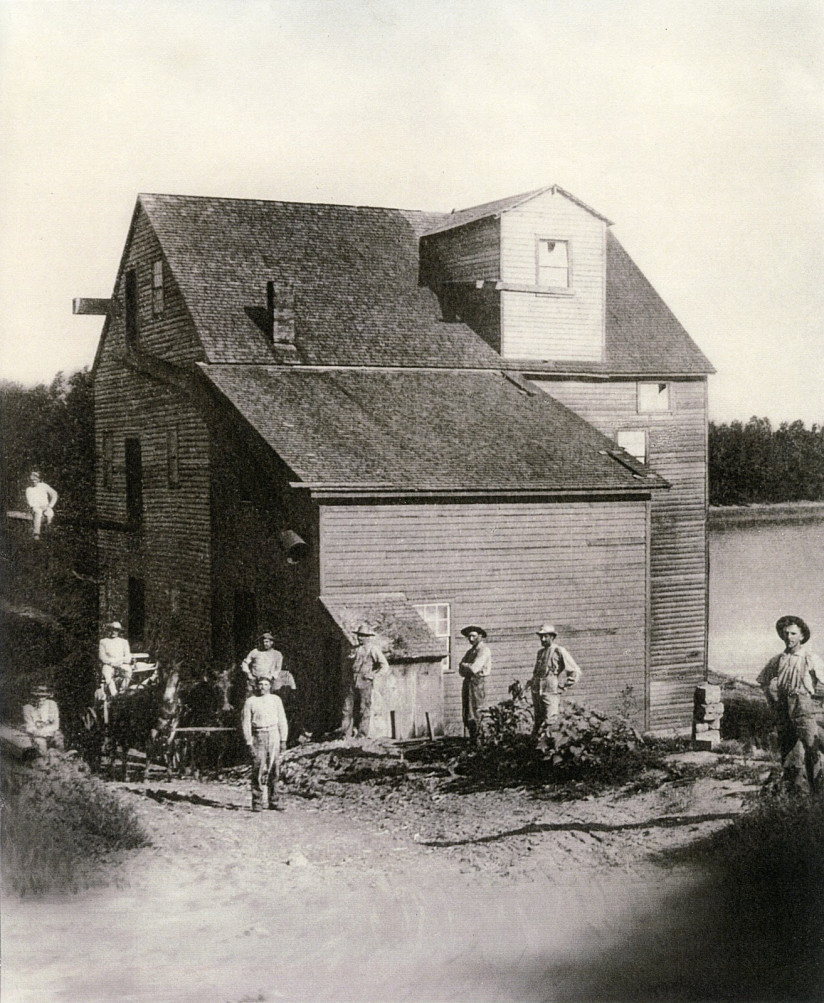 From the Abilene Weekly Chronicle: December 30, 1881:
"A little son of Jacob Brown met with a very serious accident on last Saturday.  His arm was caught and terribly crushed in the cogs of a power corn sheller.  It was thought at first that amputation be necessary, but an effort will be to save it, although he will undoubtedly be a cripple for life."
The damage was too severe, and his arm was amputated soon after this report was published.  Throughout most of his daily life, Brown would wear an artificial arm and hand, covered by his sleeve and a glove.  Later in his life, Brown was known to muse that if it had not been for this accident, he likely would have been a farmer.
After graduating from Abilene High School, Brown worked as a school teacher, attended a business college, and worked as the manager of a creamery in Wichita.  In 1898, he started Abilene Electric Light Works with his father.  Jacob Brown's grist mill was converted to be a source of Abilene's electric power.  This company grew and grew, eventually becoming the United Power and Light Company in 1924.
Due to the success of his electric company, Brown decided to build a local telephone company just one year after Abilene Electric Light Works was formed.  Brown later chartered the Brown Telephone Company in 1902.  Abilene quickly became littered with various electric and phone lines strung on wooden poles.  When it became apparent that there were too many lines in the air, Brown decided to bury many of them throughout the downtown area.  At the time, this would not have been a common practice.  Brown's company was renamed the United Telephone Company in 1911.  In 1914, Brown and his associates decided to sell a controlling interest in the company's stock to the Missouri and Kansas Telephone Company (later Southwestern Bell).  This allowed for United to have enough money to expand, and Brown was still manager of the company.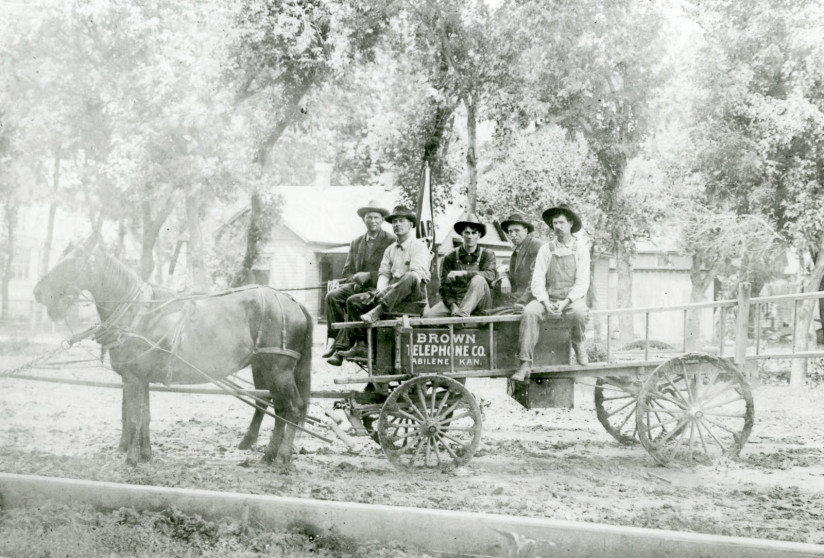 Brown built himself a large empire of companies throughout the early 1900s.  There were a total of 85 companies within the Brown empire including: Brown Telephone Co., United Power and Light Co., Clear Creek Power and Development Co., Sunflower Shoe Stores Co., United Aero Co., United Life Building Inc., United Insurance Co., Sunflower Hotel Co., United Oil and Refining Co., United Pipeline Co., United Grocery Store Co. (Piggly-Wiggly Stores), and Beach Oil Co.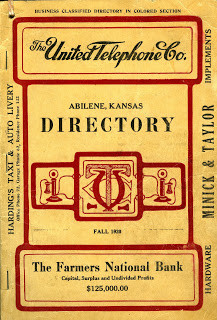 The headquarters for the United Company in Abilene was located at the corner of Third and Cedar streets.  To this day, the building is still referred to as the United Building despite the fact that it has not been used by the former company for several years.

Having amassed a great sum of money, Brown decided he should give back to his community.  He had been concerned for others for quite some time, ordering all of his employees to save ten percent of their income for future expenditures.  Additionally, he had honored employees who saved money with "honor pins" for their commitment. This mandatory savings plan would come in handy for many employees after the stock market crash in 1929.
Brown also offered living arrangements to unmarried female employees at the Lebold Mansion (a well-known building in Abilene due to its age and unique architecture).
However, it would not be until 1926 that Brown began making visible gifts to the Abilene community as a whole.  Brown and his siblings formed the Brown Memorial Foundation in memory of their parents.  With the foundation, they constructed the Brown Memorial Home for the Aged and a 226-acre park open to the public.  At the time, the park cost approximately $1,000 a day to operate.  However, it was free to the public and included a swimming lake, golf course, zoo, and camps for boys and girls.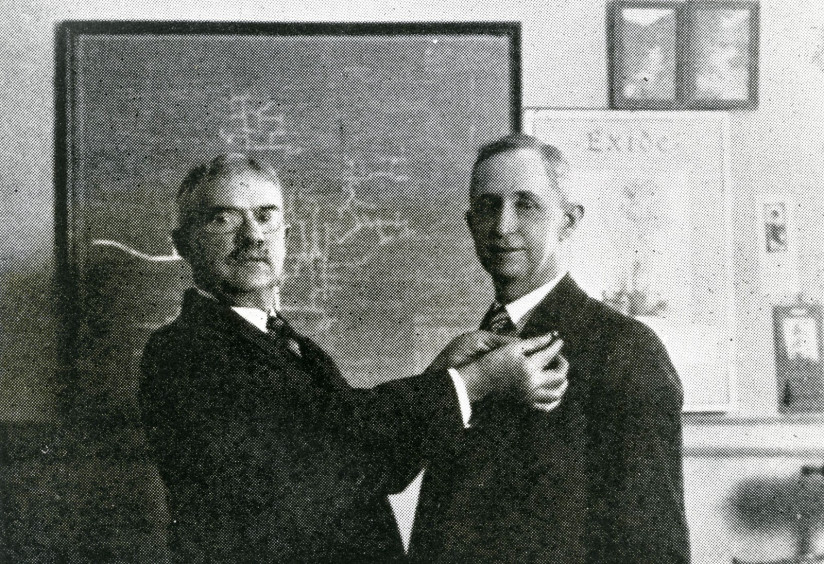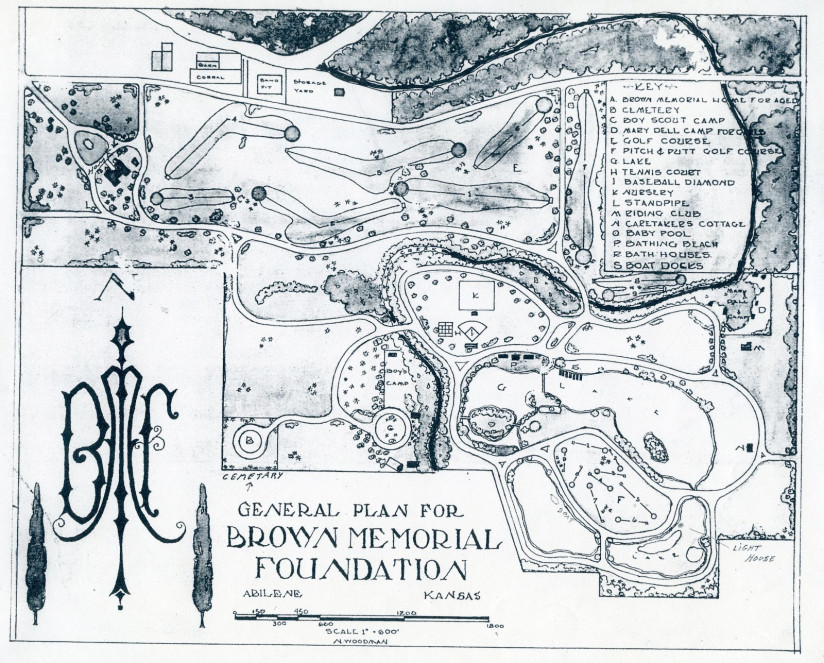 "Our only thought in establishing this memorial is to give in a practical manner recognition of the memory of our parents and to do some good to humanity in a permanent and helpful way that will make life easier for those who may receive its benefits.  It is located here in Abilene because it is our home and the home for so many years of our family.  We hope that it may fill a real need and be forever an active force for helpfulness." -C.L. Brown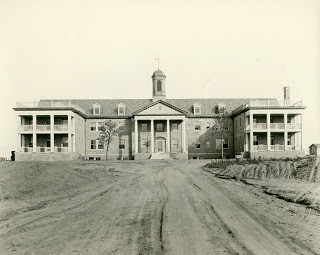 "Every man tries to accumulate wealth and it's all to buy six feet of ground.  Others enjoy the fruits of his effort and he never can see how much they enjoy it.  But I want to see people enjoy mine while I am still alive." -C.L. Brown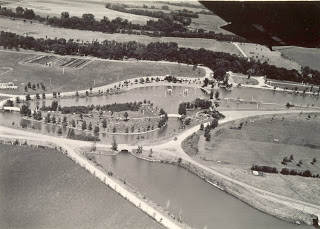 Since it was a man-made lake, Brown built a three feet high dam and two water wheels that pumped water into the lake from the Smoky Hill River.
Brown Memorial Park was a huge attraction in its day.  The lake was often filled with swimmers and canoes.  Local Sea Scouts would practice sailing skills on a massive ship that sat in the lake.  Weekend visitor totals consistently reached over 5,000 people, occasionally reaching as high as 20,000 people.  It seems hard to believe today, that Brown's Park drew in so many people, and was considered a major amusement park for the area, and was free to the public!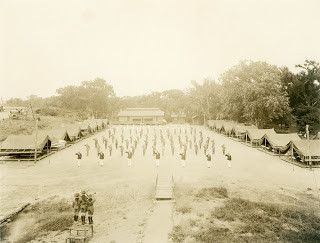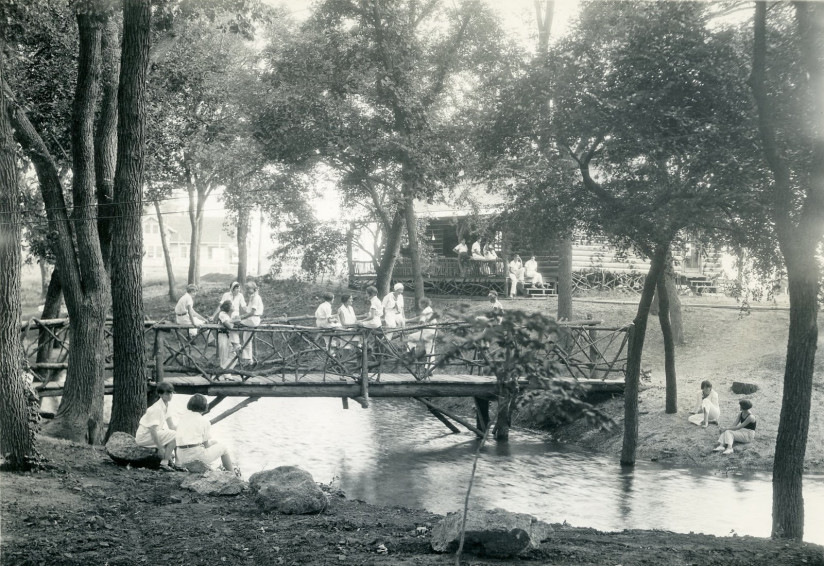 During all of this, Brown still focused a great deal on his businesses.  In 1931, during the Great Depression, Brown opened the Sunflower Hotel in downtown Abilene.  It was known as one of the grandest hotels between Kansas City and Denver.  Though Brown opened this hotel in 1931 and appeared to be doing well financially, the Great Depression would take its toll on his businesses very soon.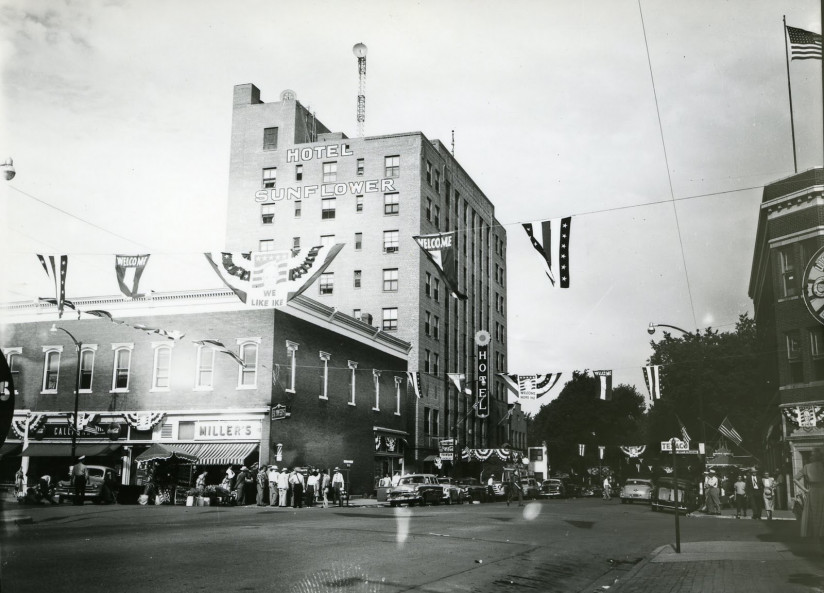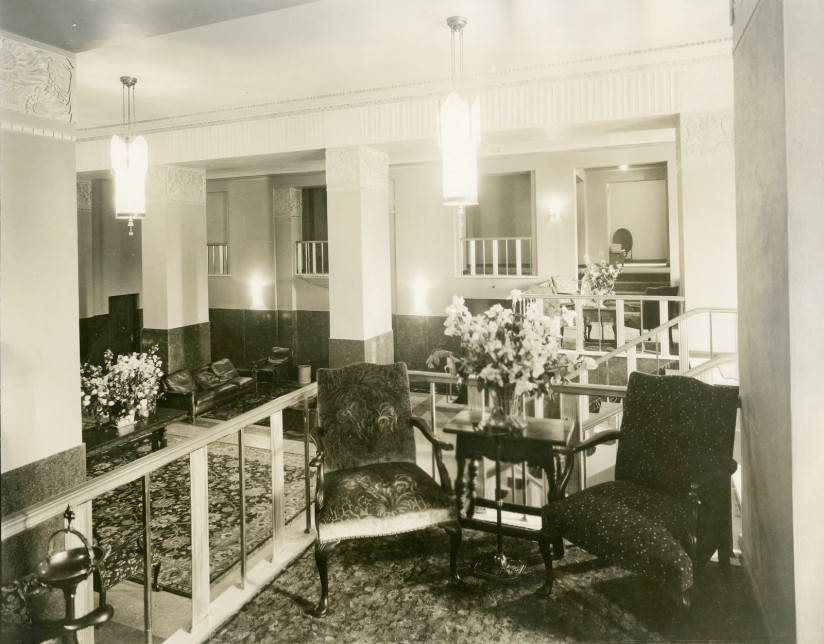 The Great Depression greatly weakened Brown's business empire in the 1930s.  This was largely due to Brown's persistent effort to continue funding business ventures that were making less and less income, such as the Piggly-Wiggly grocery store chain.  Brown died on November 12, 1935.  He was bankrupt at the time of his death.

Many aspects of the Brown Memorial Park had to be closed over the years after Brown's death due to lack of funding.  However, the Brown Memorial Home still continues to offer affordable housing for senior citizens, camping is still offered for youth in scouting programs, and residents around the area are still welcome to enjoy walking around the park.  At first glance, you may not see much evidence of what the park used to be like, since the lake dried up long ago.  However, if you look closely, there are several stone structures still standing (including many of the structures for the zoo) and the masts of the Sea Scout ship stand close to a nature trail (since they are the only part of the ship remaining, it is a rather odd sight to see).

Though the financial situation of the Brown businesses looked grim at the time of Brown's death, the United companies continued to grow and expand.  United Utilities pulled out of bankruptcy in 1938 and grew through the acquisition of many smaller companies over several years.  The company went through many changes over the years, but continued to grow and grow long after Brown's death.  In 1986, United (then known as United Telecommunications) consolidated with Sprint.  United purchased controlling interest in Sprint in 1989, and adopted the Sprint name soon after due to the company having better brand recognition.

The legacy of C.L. Brown still continues to be seen in Abilene.  With all that remains of Brown's legacy: the Brown Memorial Foundation, park, Memorial Home, Sunflower building, Brown Mansion, and the memories of Abilene's residents; C.L. Brown lives on to this day.
 
---