Mamie's Million Dollar Fudge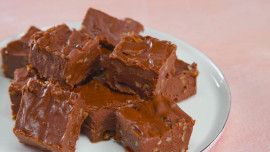 From our friends at the Eisenhower Presidential Library, Museum and Boyhood Home:
In an oral history interview, Mamie recalled, "[A]t home, the cook would not allow us in the kitchen, so I never had any kitchen experience at all."  When she married Ike, she was soon confronted with cooking. Here is one of her favorite recipes.
4 1/2 cups sugar pinch of salt
2 tablespoons butter
1 tall can evaporated milk
12 ounces semi-sweet chocolate bits
12 ounces German-sweet chocolate
1 pint marshmallow cream
2 cups nutmeats
Boil the sugar, salt, butter, evaporated milk together for six minutes.
Put chocolate bits and German chocolate, marshmallow cream and nutmeats in a bowl. Pour the boiling syrup over the ingredients. Beat until chocolate is all melted, then pour in pan. Let stand a few hours before cutting.
Remember it is better the second day. Store in tin box. 
---