President Eisenhower's Recipe for Chili Con Carne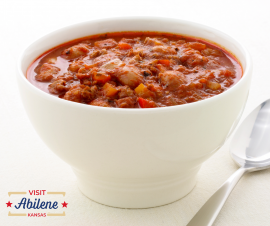 Into a large iron skillet or Dutch oven, put about two to three heaping tablespoons of bacon grease. When hot, cut up six to eight medium sized onions and one large or two medium sized cloves of garlic. Let this cook for about ten minutes, stirring occasionally. Then add two pounds of ground round steak or chuck meat, not too fat. When this has lost its red color, add a good tablespoon of salt and two ounces of chili powder. Stir well and add one and one-half quarts of water.
The fire is then turned down so that this mixture will boil slowly for about 45 minutes to an hour. Then add two or three cans of red beans, depending on your preference. Do not use kidney beans. Add one heaping teaspoon of ground comino seed (cumin), then make a small mixture of flour and water to add to the whole, which will take up any excess grease and give the gravy a little greater consistency than it previously had.
It is recommended that this is cooked several hours before it is to be served, then reheated. It seems to be better that way or even better still, make it the day before. It serves eight people.
---