6 Sweet Treat Stops You Simply Must Try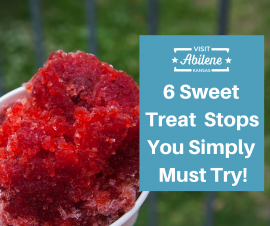 If your motto is "life is short; eat dessert first," we welcome you to Abilene!
Abilene is the perfect destination for travelers with a sweet tooth. Whether you love ice cream, baked goods, or chocolate candies, you're sure to love these six sweet treat stops!
Offering southern-style snow cones and house-made ice cream, this is the perfect stop on a warm day!
Need more ideas? Check out our list of Abilene restaurants! 
---