5 Bus-Friendly Stops You Can Visit Today!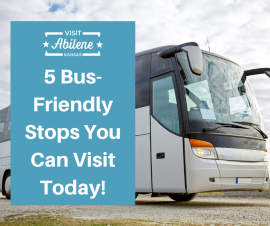 While bus travel may be changing, there are still plenty of great stops for tour busses and groups in Abilene!
Check out our list of 5 bus-friendly stops you can visit today!
1105 N. Buckeye Ave / Open Daily
Named an "8 Wonders of Kansas – Architecture", the Seelye Mansion is like a time capsule. Most of the home's furnishings were purchased at the 1904 St. Louis World's Fair. The furnishings cost more than the $55,000 that was spent building the 11,000 square foot home. The home features the original Edison light fixtures and Tiffany-style mantel. Frank Lloyd Wright suggested remodeling the interior in the 1920s. The home was featured on the History Channel's Mysteries at the Mansion. Visitors even get to bowl on the 1905 Box Ball alley, which was purchased at the Chicago World's Fair.
Ike Fact: Dwight D. Eisenhower delivered ice to the Seelye Mansion when he was a young boy. The Seelye sisters recounted stories of Ike as a man from the "other side of the tracks".
407 S Van Buren St / Closed on Monday
Historic restaurant in Abilene Kansas. Serving lunch and dinner.
Ike Fact: Mr. K's Farmhouse, formerly Lena's "farmhouse on the hill', is the location of many families and celebratory meals. Although many a story has circulated about this place, none more fascinating or humorous than the one which occurred in 1965 when President Eisenhower came face to face with a long-honored tradition at Lena's. It was the day the 34th President became "just an ordinary American citizen". While dining at Lena's he watched a first world's series game on television with friends and received an early 75th birthday paddling from Lena and one of her trademark paddles, which was signed and hung on a wall for all to see.
1993 Caramel Blvd / Open Daily
Complete assortment of Russell Stover, Whitman's, and Pangburn's products including sugar-free and Weight Watchers by Whitman's. Make sure to check out the "back room" for added discounts!
Tip: Russell Stover has plenty of restrooms to accommodate bus travelers.
407 S. Buckeye Ave / Winter Hours Open: Wednesday-Sunday 
Explore the exciting world of racing and learn about the Greyhound dog breed at the Greyhound Capital of the World!
The Greyhound Hall of Fame museum is even named to Atlas Obscura's list of "The Ultimate List of Wonderfully Specific Museums". 
Tip: You'll be greeted by resident Greyhounds Ginger and Buddy!
100 SE 5th St / Open Daily
Located in Old Abilene Town. Homemade food. Hand-cut steaks.
Bonus:

Enjoy a drive-by tour of Abilene's murals. 
Need overnight lodging?

Abilene's Holiday Inn Express and Super 8 hotels are happy to accommodate bus travelers.
Let us help you!
Need welcome bags or help to coordinate your group's visit? Contact us! 
---