Celebrate Women's History Month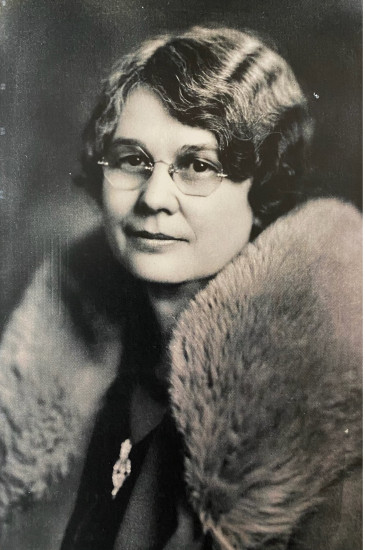 March is Women's History Month and Dickinson County is rich with iconic women from Elizabeth Hersey, who gave Abilene its name, to Ida Stover Eisenhower, mother of President Eisenhower.
In 1920, the 19th amendment to the U.S. Constitution officially took effect. Not long after its ratification on March 7, 1922, Dickinson County native, Mrs. Jessie F. Beeghly was appointed by Governor Allen to serve as Dickinson County Probate Judge following the death of Judge Anderson.
The Governor stated that in his experience he had not had so fine a list of endorsement as was sent him for Mrs. Beeghly. It included the name of every attorney in the city, the county commissioners, and many other persons who have had business before the court.
Born in 1883 on a farm in the Willowdale community, Beeghly graduated from Abilene high school. She taught music for three years, and in the public school in Woodbine for one year before her marriage to Harvey E. Beeghly. They lived on a farm for a short time before settling in Abilene where her one daughter, Helen, was born.
Her desire to reenter public life led her to a position in the office of the county assessor where she was employed for two years. Then, she served as an assistant in the offices of the county clerk and county treasurer for eight years before her appointment.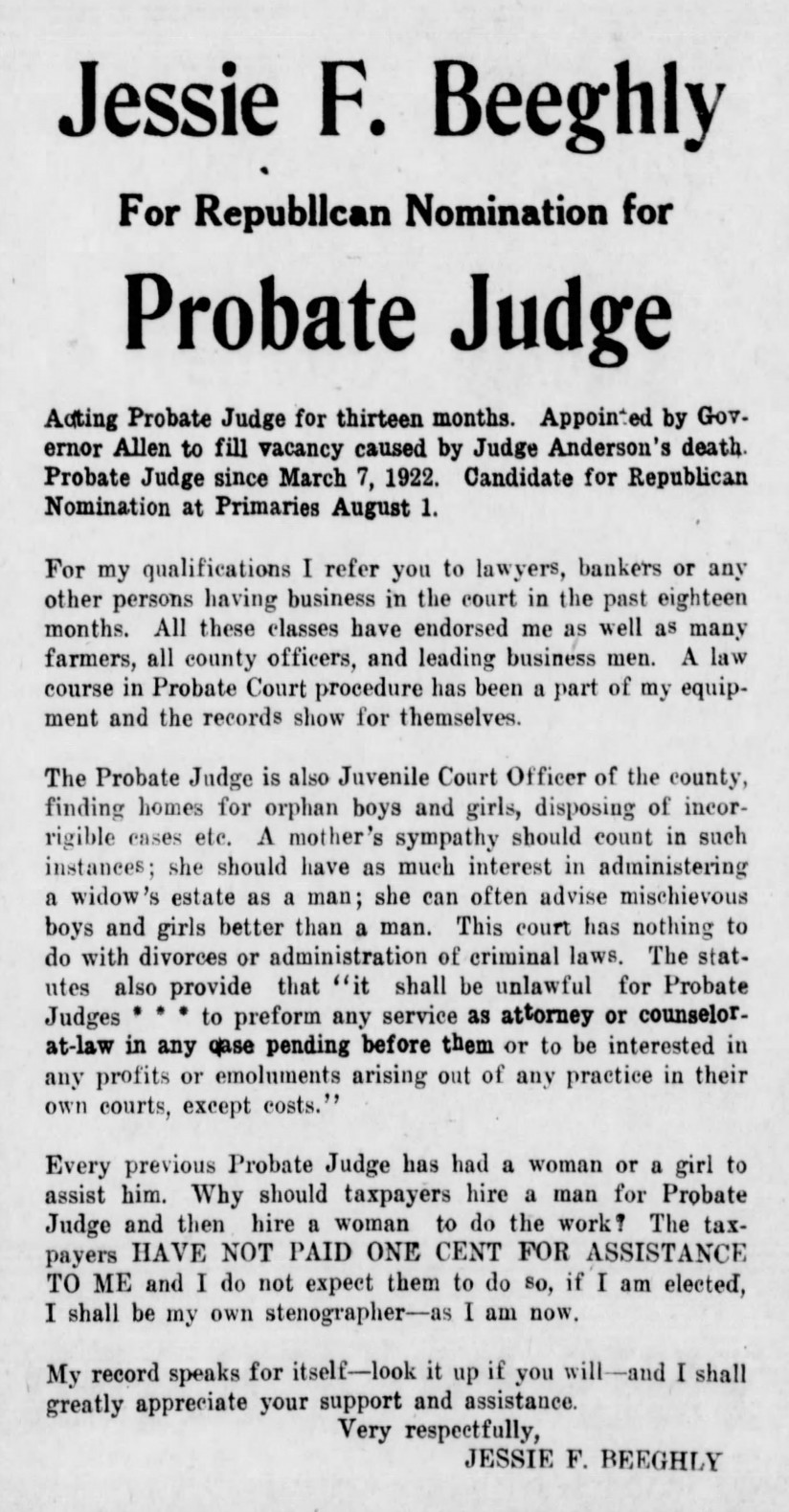 After her appointment, Judge Beeghly, a Republican, then ran in the 1922 primary election for Probate Judge and beat her challenger, Mr. E.F. Halbert 1555 to 961, respectively. In the 1922 general election, she faced democratic challenger and former probate judge D.W. Tappen. The Dickinson County Republican Central Committee's November 4, 1922 ad in the Abilene Daily Chronicle reported that when Tappen was a judge he had an assistant at $60 a month paid by the county to help him, however, Mrs. Beeghly asked for no help and even served as her own stenographer. She said the work of the office, though greater than four years ago, does not require any extra expense and she will ask for no assistance. She defeated Tappen 4616 to 3525, respectively.
Judge Beeghly served for 10 years, winning four re-elections, until her retirement in 1931.
Practically every family in the county sooner or later came in touch with her office. She married couples, probated wills, and went above and beyond to appoint to guardianships.
In newspaper ads, she sought help for a mother earning $10 per week seeking a place for her four children. In another, she sought a home for a "little lad with blue eyes and light hair, large for his 9 years and as sturdy as any boy could be, who is in need of a good home and the love and affection which kind foster parents might give him" after his mother applied to the probate judge for aid in finding a place for her child. 
Commenting on her work, the Abilene Reflector stated, "she has given the county an exceptionally fine service, unexcelled in all of its history."
Judge Beeghly also gained a statewide reputation and served every office in the Probate Judges' Association of Kansas from secretary to the president. Her system of court records was always greatly admired, and it was adopted as the standard by many judges over the state. Her personal files held many letters from school executives and others thanking her and praising her work and cooperation with them in the field of juvenile delinquency.
She was a Sunday school teacher for 18 years and served eight years as a Republican precinct committeewoman for the Abilene fourth ward. She was also president of the Republican Women's club in 1932.
Judge Beeghly passed away on August 12, 1953, and is buried in the Abilene Cemetery. While her name may not be familiar to most, her work lives on in generations of Dickinson County residents.
Thank you to Nanc Scholl and Mid Hanson at the Dickinson County Historical Society for contributing to this story.
---