Flatland RV Park Opens to Travelers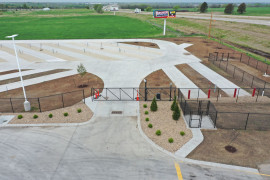 With demand for RV camping on the rise, Abilene's 24/7 Travel Store recently opened its new Flatland RV Park.
According to Ted Augustine, Manager of Growth & Development for Triplett, Inc., the Flatland RV Park in Abilene was made for those travelers who are always on to the next discovery. And, when the day ends, the Flatland RV Park provides a safe, comfortable campsite with all of the amenities travelers expect, plus the comforts they need.
Amenities include: all-paved sites, full hookups at each site, grass and picnic areas, gas and diesel fuel available, laundry facilities, restrooms, showers, dog park, and Wi-Fi.
Flatland RV Park also offers a free sewer dump and a potable water station.
With its proximity to the 24/7 Travel Store Convenience Store, travelers can purchase food and other convenience items, or order from the adjoining Arby's Restaurant.
Standard Sites are $40/night for up to 65 feet long and $60/night for up to $120 feet long. Both sizes offer pull-through spots.
Learn more at www.24-7stores.com/flatland-rv-park.
---