5 Tips for an Enjoyable Summer Trip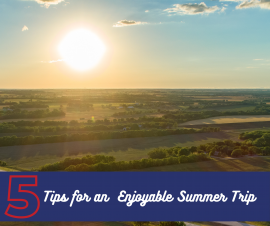 Summer travel season is in full swing. While many are anxious to hit the road, the Abilene Convention & Visitors Bureau has a few tips to help ensure you have a pleasant trip.
1. Call Ahead
Travel-related businesses across the country have been affected by COVID-19. Many are operating with reduced staff and hours. If you are traveling a distance, it is important to call ahead to confirm hours and availability. Please do not rely solely on printed materials, Google listings, social media updates, or websites as many are not kept up-to-date due to staff shortages or other challenges. The best way to ensure your destination is open is to speak directly with a staff member.
2. Plan your overnight stops
3. Consider lesser-known attractions
Kansas Guidebook 2 for Explorers
4. Be patient
5. Check road conditions and gas prices
Gas prices are also on the rise. Save money by checking gas prices in neighboring towns. Note, Abilene is known for its lower gas prices!
 And lastly, if you have a great visit, make sure to leave a positive review to help others.
By following these five tips, you are sure to have a more enjoyable vacation!
---