5 Myths About Downtown Abilene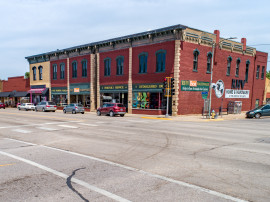 When you're alone and life is making you lonely
You can always go - downtown.
When you've got worries all the noise and the hurry
Seems to help I know downtown....
....So maybe I'll see you there
We can forget all our troubles, forget all our cares
So go downtown
Things will be great when you're downtown
Don't wait a minute more downtown
Everything is waiting for you
Downtown
Downtown
Downtown
Downtown
Great things are happening in downtown Abilene!
According to several downtown business owners, business is picking up and keeping consistent hours, and sharing sales and new products on social media is helping to attract customers.
Here are five common myths about downtown:
1. Myth: There's no place to eat

Truth: With Amanda's Bakery & Bistro, Midwest Snow Cones & Creamery, Tossed n Sauced Pizza, La Fiesta Mexican Restaurant, Ortus Café, and Joe Snuffy's Old Fashioned Grill just across the tracks, there are plenty of great options for all tastes.
2. Myth: There's no place to sit

Truth: With more than 40 benches in downtown Abilene, your next stop is only a few steps away! Whether you're taking a break while your friends and family shop or sitting and admiring the beautiful flowers and artwork downtown, there are plenty of places waiting for you.
3. Myth: There's no place to park

Truth: With on-street parking, as well as three public parking lots, there's always somewhere to leave your car.
4. Myth: There's nowhere to shop

Truth: With more than 20 gifts shops and boutiques, plus more than 100 antique vendors, you never know what you'll find downtown! You can even make your own candles, design your own unique piece of jewelry, and shop for your next favorite book in person at an independently owned bookstore in Downtown Abilene. 
Check out our Visitors Guide for a complete list! 
5. Myth: There's nothing going on
Truth: Visit downtown Abilene to attend the return of the Central Kansas Free Fair's Parade on Thursday, August 5 at 4 pm, watch the Union Pacific Big Boy Steam Engine #4014 arrive in Abilene on Thursday, September 2 at 3:45 pm, and stick around to shop downtown boutiques during the 2nd Annual Abilene Boutique Crawl from 5:30-8:30 pm, enjoy German beer and food during Abilene Oktoberfest on Saturday, September 25, and end the year with Night of Christmas Magic on Saturday, December 4. And... make plans to return Saturday, May 7, 2022, for Abilene Antique Fest.
---