44th Heritage Homes Association's Homes for the Holidays Tour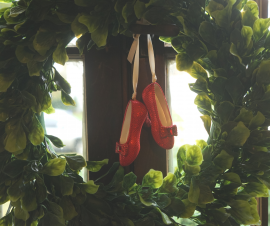 Saturday, December 4 from 4-8 pm
Sunday, December 5 from 1-5 pm
From a reimagined former school to a downtown upper story apartment and AirBNB, to beautifully restored and decorated homes on Abilene's historic Vine Street Historic District, and a lovely Church, you won't want to miss the 44th Annual Homes for the Holidays Tour! Tickets are $10 and are available in advance at West's Plaza Country Mart, SK Designs and Abilene Downtown Antique/Mud Creek Malls, and during the tours at LifeHouse Church.
1. 307 N Vine Street - Kelly & Karen Cooper
He married Daisy Hoffman, from Enterprise, on September 20, 1906. She was very active in club work and was honored several times for her contributions to the community and beyond.  She graduated from Kansas State University and held the distinction of being the first kindergarten teacher in Kansas.
They lived in the home until 1964.  Over the next 23 years, the home had five different owners until Stan and Victoria Martin purchased it.    
Stan, an avid musician, was born and raised in Abilene, He graduated from Abilene High School in 1968, received degrees in philosophy and English from the University of Kansas in 1972, and his law degree from KU in 1975.  He served as a Vista Volunteer in Montana before returning to Abilene to practice law as a partner in Martin and Sexton, P.A., served as city attorney for Abilene, Herington, Solomon, Chapman, Hope, Woodbine, Manchester and Enterprise.  Stan died in 1999 and in 2002 Victoria sold the property to James & Stephanie Valent who, five years later, sold it to Timrek and Tara Moore. 
For current owners Kelly and Karen Cooper, this is the third house on North Vine Street that they have lived in.  The first was the one just south of their current home, which they rented for a while. In 2008 they then purchased the home at 206 N. Vine, which they outgrew when they became foster parents.  Karen wanted to stay on Vine Street and when this home was for sale in 2016, it was the perfect one for their growing family.  The Coopers have eight children, with two at home.  The finished third level is the place where the college girls love to gather when they come home, and is also the area that Stan Martin used as his music room. 
2. 304 N. Vine Street - Mary Jean Eisenhower
When it was built in 1885 by Winfield Scott Stambaugh it was red brick. Years later architect's blueprints from the 1919 remodeling project were found in an upstairs bedroom closet. They revealed the house originally consisted of a living room, dining room and kitchen on the first floor, and two bedrooms upstairs.   The front porch, supported by six white wood pillars with detailing at the top and a railing surrounding it, was changed to stucco. The porch became more dominant with huge columns characterizing the Prairie style.  A portion of the wraparound porch was replaced by a sunroom that may be entered through French doors on either side of the fireplace in the living room.  A bench seat was built along one side of the sunroom.
Winfield came to Abilene with the Buckeye Colony in 1870, taught school for a few years, read law with J. H. Mahan, and entered into a 21-year partnership with G. H. Hurd as a member of the firm Stambaugh, Hurd and Dewey, attorneys at law. He was active in the Republican Party. He moved to Fargo, where he formed the partnership Newman, Spaulding & Stambaugh.
Ames P. Rogers, following graduation from the University of Kansas, worked at the National City Bank of New York City. He returned to Abilene in 1919 to join his father, George A. Rogers, at the Abilene National Bank. He later succeeded his father as bank president.  He was a Mason, Rotarian, Legionnaire, director of the Chamber of Commerce and treasurer of the Red Cross. 
Ames hired a Kansas City firm to build an addition to include a sun porch, kitchen, family room, bedroom, a French door connected the original dining room to the new pantry and kitchen, plumbing, electricity, and space for an ice refrigerator and cooking stove.  A sleeping porch, bathroom with a seven-foot tub and walk-in closets were built in the original master bedroom.  The stairway, originally open to the second level, was altered, allowing for the installation of a large linen closet.
The Rogers family built a second addition constructing a family room and another upstairs bedroom prior to 1958.
The next owner, Rhea Guilfoyle, a widow, sold the house to her son William A. Guilfoyle, an Abilene attorney for more than 50 years (following in his father's footsteps). He served as president of the Abilene Elks Lodge, the Brown Memorial Foundation, and secretary of the Eisenhower Foundation.
3. 206 N. Vine Street - Trevor & Lydia Witt
The 1904-05 Abilene City Directory shows George and Minnie Gleissner living at this address; George was a traveling salesman.  The 1908-1909 Directory lists Oscar A. & Lucy Sterl living at this address.
In 1907 the Abilene newspaper has an article stating that "George Gleissner sold newly married Oscar Sterl a residence on Vine Street for $3,100".  Oscar and Lucy were married in April of 1907. 
Oscar, the nephew of George C. Sterl, came to Abilene in 1898 to join his brother, William, in association with their uncle in the clothing business.  Following their uncle's death in 1912 the brothers formed a partnership known as Sterl Brothers.  It was largely through the tireless efforts of Oscar Sterl that the fair, held annually in Abilene, grew from a small local project into one of the most highly rated events of its kind in Kansas.  He was very active in the development of the 4-H programs in Dickinson County.  The main venue at the fairgrounds, Sterl Hall, is named after him. 
Oscar's brother, William, never married, and his sister, Louise, married Dr. Pete Bachman Witmer.  Louise and Pete had a daughter, Mary Elizabeth, who married Dr. Glen Hampton, a dentist.  Mary and Glen had two children, Pete and Louise.
Oscar died in 1946, Louise in 1963. They had no children so Louise left the property to her niece Louise and nephew Pete. They sold it to James J. and Mary K. Wesley. 
In 2006 James Wesley, by then single, sold it to Kelly & Karen Cooper. In 2016 their daughter Lydia and son-in-law Trevor purchased the home. They are the current owners.  Raised in Abilene, their plans are to make their "forever" home in the community.  They have two sons.  Trevor has served on the Abilene City Commission since 2018 and works full-time as an unmanned aircraft systems (UAS) data analyst. He is also the founder of Kairos Geospatial, a corporation that provides services for manned aircraft survey companies.  
Lydia, knowing she wanted to do something in the arts, started her own graphic and web design business.
4. 420 NW 2nd Street - LifeHouse Church
In 1912 Emerson Coulson established his auto dealership here. In 1920 the City Directory shows Conn & Bogart occupying the building.
 Over the next two decades, there were several other automobile businesses at this location – 1940 saw Charles Cruse operating Crust Motor Co., and then in 1943 Ronald Rice opened his automobile dealership.  During the tour, the church will offer light refreshments at its "Gathering Grounds Coffee Shop," where photographs of the Ronald Rice Motor Inc. are on display. The church will also make restrooms available during the tour.
In 1978 Mel Racy opened his Chevrolet, Oldsmobile and Cadillac dealership at this address. In 1984 he sold to Tim Holm and it became known as Holm Chevrolet, Oldsmobile and Cadillac.  Ten years later Holm built new facilities in the 2000 block of North Buckeye and moved to that location.
In 1996 the Abilene Antique Plaza and Cadillac Café opened for business; it closed in 2004. The structure was vacant until 2015 when the LifeHouse Church took up residence at this address.
In 2020 Chris Danielson asked his friend Jay Johnson of the Zion Brethren in Christ Church in the Buckeye Community just north of Abilene if he knew of a church in need of a pastor.  Pastor Johnson informed Chris about the vacancy at LifeHouse Church and the rest is history. 
 As you look to the front of the sanctuary you will notice the attractive backdrop on the wall which was created from repurposed pallet wood and stained to create what you see today.  The pulpit was specially made for Chris by the congregation, also of repurposed pallet wood, and presented to him on Pastor Appreciation Day, being custom made for his stature.
Chris, who has been a pastor off and on for over 30 years, and his wife Emilee are from Alabama.  Chris has ministered in Alaska, Minnesota, and Alabama.  He is into Christian filmmaking and broadcasting, with this being his first full-time ministry.
5. 113 NW 3rd Street - Rob & Dawn Hammatt

Take a historic brick building at the end of the Post Office Block in downtown Abilene and envision what it can become – that's what Rob and Dawn Hammatt did.  Known as the Perring Building, it was listed on the National Register of Historic Places in 1999.  For many years the Etherington Real Estate offices were on the first level; the basement was used for storage and the second level was "just empty."  In 2019 Stew Etherington closed his real estate offices and put the building up for sale. Rob and Dawn Hammatt purchased it, envisioning new life for the structure.  
When Leslie E. Perring purchased the property in 1898, its southern portion contained a small cigar shop. Perring constructed a temporary building to the north of the cigar shop, from which he operated a restaurant. In 1902 Perring took out a mortgage for $2,000 and began construction on the Perring Building, selling to his mother in 1904 for $9,000 when completed. The first floor features 15-foot high ceilings; the second-floor ceilings are only 12 feet.
The 1904 Abilene City Directory places George C. Anderson and Cooperative Burial as tenants of a portion of the building. 
The 1905 Sanborn Fire Insurance Map indicates that a music store, an office, and a pool and billiard hall occupied the first floor.  On the second story was a meeting hall for the Knights of Columbus and the Veterans of Foreign Wars. The basement once housed L. E. Perring's restaurant. 
Over the next 50 years, the Perring Building housed several long-term tenants on the first level, including Woolverton and Wyandt, Insurance, Mortgage, and Real Estate broker, and Western Union.  Other tenants included physicians and the County Soil Conservation Service.
The Hammatts oversaw a complete renovation of the building after buying it. They opened Ortus Cafe on the first floor and created two up-scale loft apartments on the second floor. It didn't take Dawn and Rob long to realize that they wanted to live in the two-bedroom apartment so they sold their home and moved in.  Downtown living is where their hearts are!
6. 300 NW 7th Street - Garfield Senior Living
Constructed with the assistance of the Federal Works Agency of the U.S. Government (WPA), the two-story blond brick and concrete structure is an excellent example of Modern and Art Moderne architecture – horizontal lines, bands of windows, stepped bays, simple form. Dedicated in April 1942, it was later nominated as part of the "Historic Public Schools of Kansas" and the "New Deal-Era Resources of Kansas." It also collected multiple nominations for its association with local educational history and its architecture.
In 2019 it was purchased by brothers Andy and Josh Gilmore. They took care to ensure that the new design met the requirements of the National Register of Historic Places.  The official ribbon cutting was on August 24, 2020.  The structure has been converted into 19 one- and two-bedroom 'homes' with a washer and dryer in each unit, as well as a dishwasher and a low-step shower. The complex has a small exercise room, a community room with a kitchen for coffee and special events, an elevator to the second level, a storm shelter in the basement, an outside picnic area, and covered parking. 
Cowtown Christmas
www.AbileneKansas.org/Christmas
. 
---