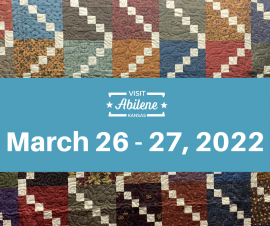 If you love all things quilts, make sure to add March 26-27, 2022, to your calendar to visit Abilene, Kansas. From shopping for the latest quilt supplies to seeing century-old quilts or following the Eisenhower Barn Quilt Trail, Abilene is a quilter's destination! 
1. A Sunflower Journey Quilt Show
Admission is only $5, and children 10 and under receive free admission. 
2. Ida Stover Eisenhower Memorial Quilt Show
See nearly 100 quilts on display from years gone by to the present day.
3. Youth Quilt Show
Presented by the Arts Council of Dickinson County, stop by 401 N Cedar Street to see the creative works of area youth.
4. Material Girls Quilt Shop
Material Girls Quilt Shop
, 306 N Buckeye Ave, for a great selection of fabric and notions. 
5. Eisenhower Barn Quilt Trail
According to Suzi Parron who authored Barn Quilts and the American Quilt Trail Movement, quilt trails are organized all across the country.  Quilt blocks are displayed on barns around the countryside and then mapped out for tourists to follow these amazing works of art.  The quilt trails draw visitors into our rural communities as well as promote county-wide pride and showcase agriculture.  Traditional stars and various quilt patterns are now being displayed on barns, homes, sheds, and sides of buildings throughout the Kansas Flint Hills.  They are also put on posts and displayed in yards and parks. 
A project of the Flint Hills Tourism Coalition, the Flint Hills Quilt Trail Committee compiled this helpful list of barn quilts, including the Eisenhower Barn Quilt Trail in Abilene. Utilize the interactive map to learn more about each block.
---