5 Answers To Your Questions About Legacy Kansas: Munson's Prime & Brookville Hotel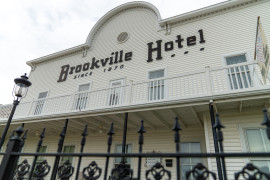 Our phone is ringing off the hook with questions about the new Legacy Kansas: Munson's Prime & Brookville Hotel, so here are a few answers to your questions:
1. Are they open?
Yes, Legacy Kansas is now open by reservation only - this includes carry-out orders, too. But -- reservations fill up quickly, and it may take several weeks or more to accommodate your request.  The demand is incredible! 
2. How do I make a reservation?
Please call 785-200-3973 between the hours of 2 pm and 6:30 pm Thursday-Monday. This is the time when the phones are staffed. However, it may still be difficult to get through. During certain parts of the day, all of our phone lines are ringing with questions, so theirs probably are as well. 
Do not call the number Google lists for the former Brookville Hotel property. It does not work, and they are waiting for Google to approve updates. Trust us, use the number listed above.
Do not leave a Facebook message for a reservation.
3. What are their hours?
They are open Thursday-Monday from 4:30 pm - 7:30 pm. They are also open for lunch on Sunday from 11 am - 2 pm. Reservations are required.
4. What are they serving?
Your choice of the Brookville Hotel's classic half-skillet fried chicken or 8oz. Munson's Premium Angus Country Fried Steak.
Sides include:
Relishes - Apple rings, peaches, bread and butter pickles
Sweet and Sour Cole Slaw (Family Pennsylvania Recipe)
Cottage Cheese
Hand Peeled Mashed Potatoes and Cream Gravy --> Yes, REAL mashed potatoes!!
Cream-Style Corn
Baking powder biscuits with creamy butter and preserves
And for dessert,  HOMEMADE ice cream!
5. They are hiring!
This is the most important part. Like restaurants across the country, Legacy Kansas needs help so they can expand hours of operations, menu items -- like their award-winning steaks, and serve more customers.
Please be patient and understanding with them. The demand for their restaurant is beyond overwhelming. This is a great problem, but they need more help. We appreciate the Munson family's willingness to purchase and reopen this destination restaurant, but it takes time (and people!) to ramp up operations. 
Need more information?
Check out their website at https://www.legacykansasabilene.com/.
Other options
Abilene is full of great locally-owned restaurants. See a list at www.AbileneKansas.org/eat, but please understand all restaurants are facing staffing challenges, and hours may be limited. 
---