10 Reasons Why Abilene Feels Like The Wild West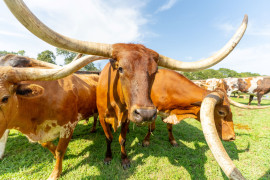 Named #1 True Western Town of the Year by True West Magazine, Abilene's Americana reputation has a wild and wooly side. From cowboy art to nationally-acclaimed rodeos and saloon artifacts to commemorative markers, Abilene is the best place in the country to experience the authentic Wild West. So grab a pair of cowboy boots and prepare to celebrate the Wild West in a town like no other!
1. The Real McCoy

Many tried to make their fortunes in the cattle trade, but it was Joseph McCoy who put Abilene on the map. 
According to the Kansas State Historical Society, McCoy began to work in the mule and cattle industry in 1861. He expanded his business to shipping large herds of cattle to slaughter and quickly recognized flaws in the system. An average of longhorns in Texas caused their value to be only three to four dollars a head. In cities like Chicago they were worth $30 to $40 a head. McCoy began to develop a transportation system that would send cattle north to more profitable markets.
McCoy examined how he could send cattle on the railroads, which could then take them north to sell. The problem was in the 1860s Kansas outlawed longhorns to control the spread of "Texas fever." Longhorns were immune to the disease, but the Midwestern cattle were susceptible, and many a farmer had lost his herd when a band of longhorns passed through. Kansas eased the law in 1867, allowing Texas cattle to be driven through "the first guide meridian west from the sixth principal meridian." This kept routes west of the cities located in eastern Kansas. McCoy knew that the Chisholm Trail, used as a trade route, was perfect for a cattle drive since it met the law's requirement. He settled in Abilene One of the first cow towns, Abilene was built with extensive advertisement in Texas that encouraged cattlemen to send herds its way. The plan worked. McCoy was later elected mayor of Abilene and referred to himself as "The Real McCoy."
2. The End of The Chisholm Trail
3. Take the Bull by the Horns
In 2021, Abilene residents and supporters rallied together to bring an original bull head longhorn that hung in the saloon back to Abilene.
Travel Tip: See the Bulls Head Saloon Longhorn at the Trail Center in Old Abilene Town. 
4. Relieve Abilene's Wild Side at Old Abilene Town
Travel Tip: Book a trip with the Abilene & Smoky Valley Railroad. This excursion train, when pulled by a steam engine, reflects the mode of transportation that shipped longhorn cattle to markets in the east in the late 1860s. The train travels through the Smoky Valley, which the longhorns may have grazed after their long journey from Texas. 
5. Tom "Bear River" Smith Attempts to Tame Abilene
Tom handled the cowboys not by pulling his guns but would first talk to them politely. If that didn't work, he used his fists. Big Hank and Wyoming Frank were the first two cowboys to learn that Marshal Smith meant business. Both had defied him only to find themselves picking their bodies off the floor, being knocked down by Smith's two big fists.
Most cowboys and the townspeople respected Smith and gave him very little trouble. However, Tom Smith was killed in the line of duty. On November 2, 1870, Smith and his deputy rode out northeast of Abilene to bring in two settlers who were accused of killing a third farmer whose cattle destroyed their crops. As Smith rode up to their dugout, he was shot falling from his horse. The deputy, thinking Smith was killed, turned around and rode back to Abilene to get help.
By the time he came back with help, they found Smith's body lying on the ground with his head nearly severed by an ax. The two men were found, and both were sent to prison.
6. Before Deadwood, There Was Abilene

While James Butler "Wild Bill" Hickok may have died in Deadwood, he left his mark on Abilene.
After the death of Smith, the city hired a man by the name of James Butler Hickok. People better know him as "Wild Bill" Hickok. Hickok controlled the town from April to December of 1871.  His reign as marshal ended with the shooting of Phil Coe in October.  Hickok and Coe had a running dispute throughout the cattle season.  Coe owned and operated the Bull's Head Saloon. As the season was coming to an end, Coe and some other Texans were out and about the town going from saloon to saloon.  At some point, Coe pulled a pistol out and started shooting at a dog.  Wild Bill came to see what was happening and saw Coe with the pistol.
Wild Bill asked Coe to turn over the gun, but Coe fired at the marshal missing him.  Hickok drew his pistols and was true with his aim.  Coe fell to the ground mortally wounded.  As Hickok fired his pistols, he saw another man running up from the side; he turned and fired without looking.  The second man was Mike Williams, a good friend of Wild Bill's. Williams fell to the ground, dead.
Wild Bill was devastated.  This was the end of Abilene as a cattle town.  In December, Wild Bill Hickok was let go as the marshal, and the cattle drives were banned from Abilene.
Dickinson County Heritage Center
. 
7. Honoring Wild Bill's Legacy
Wild Bill Hickok Rodeo
, named one of the best medium-sized PRCA rodeos in the country, attracts thousands of spectators and contestants each year in August. 
Travel Tip: You won't want to miss seeing youth compete in "mutton bustin'"!
8.  Spurs of All Sizes!
Big Spur
" makes a big statement. This spur at Rittel's Western Wear stands on its ends and towers 28' above the ground. It weighs a ton and was built by Larry Houston in 2002. 
world's largest belt buckle
! The WLBB will be placed outside of the Abilene grandstand and feature a spiral staircase for visitors to climb so they can "wear" this incredible piece of art!
9. The First Cowboy Boots
As reported by Texas Monthly, during the great cattle drives that took place between 1866 and 1890, cowboys took their boots and asked shoemakers to create "boots with a slimmer design, higher heels, more rounded toes, and a sturdier instep than were available at the time." Several cobblers are credited with inventing the cowboy boot. Per the March/April 2000 issue of American Cowboy, T.C. McInerney opened a shop in Abilene, Kansas, "the first cowtown," and sold high heeled boots with red tops for $12 to $20. 
Using this ad for inspiration, the Arts Council of Dickinson County. Quality Life Coalition of Dickinson County and Community Foundation of Dickinson County joined forces to add cowboy boot art throughout the community.
Cowboy Boot Art Trail
to see them all!
10. Celebrating The Abilene Cowboy
The Abilene Cowboy
was installed in 2020 and is a one-of-a-kind piece of art. It stands more than 15 feet tall and weighs more than one ton.
---