Explore Wild Bill Hickok's Abilene
Named Best Historic Small Town to Visit by USA TODAY and True Western Town of the Year by True West Magazine, this Chisholm Trail Cowtown is the perfect stop for cowboys, cowgirls and cowboy history aficionados! 
Wild Bill Hickok
While James Butler "Wild Bill" Hickok may have died in Deadwood, he left his mark on Abilene.
After the death of Abilene's first city marshal, Tom "Bear River" Smith, the city hired a man named James Butler Hickok. People better know him as "Wild Bill" Hickok. Hickok controlled the town from April to December of 1871.  His reign as marshal ended with the shooting of Phil Coe in October.  Hickok and Coe had a running dispute throughout the cattle season.  Coe owned and operated the Bull's Head Saloon. As the season was ending, Coe and some other Texans were out and about the town going from saloon to saloon.  At some point, Coe pulled a pistol out and started shooting at a dog.  Wild Bill came to see what was happening and saw Coe with the pistol.
Wild Bill asked Coe to turn over the gun, but Coe fired at the marshal missing him.  Hickok drew his pistols and was true to his aim.  Coe fell to the ground, mortally wounded.  As Hickok fired his pistols, he saw another man running up from the side; he turned and fired without looking.  The second man was Mike Williams, a good friend of Wild Bill's. Williams fell to the ground, dead.
Wild Bill was devastated.  This was the end of Abilene as a cattle town.  In December, Wild Bill Hickok was let go as the marshal and the cattle drives were banned from Abilene.
See the original site of the Alamo Saloon at 101 N Cedar Street.
At this site, in 1871, Wild Bill Hickok exchanged deadly gunfire with Texas gambler Phil Coe. Unable to see in the darkness, Hickok fired both pistols at another figure, bursting into the light with the gun drawn. Sadly, that figure was his friend and deputy, Mike Williams. 
Must-See Stops
Visit these sites to experience what Abilene was like during its Wild Bill Hickok and Chisholm Trail Cowtown days and celebrate the cowboy story with Abilene's new cowboy-themed public art exhibits. 
Gunfighters stage mock shoot-outs during the summer travel season.
Be sure to check out the Great Western Cattle Co. building to see a complete re-creation of Abilene's original Texas Street.
Tip: Make sure to see the Bull's Head Saloon Longhorn at the Trail Center in Old Abilene Town- According to a signed document, the bullhead is from the Bull Head Saloon that belonged to "Shotgun Ben" Thompson in Abilene. It was the headquarters for the drovers who trailed cattle from Texas to Kansas in the late 1860s and 1870s.
Tip: Make sure to check out the Wild Bill Hickok Bronze Statue and a replica of his gun on display. 
The train departs Abilene eastbound for a 10.5-mile round trip through the Smoky Hill River Valley to the neighboring community of Enterprise. There, the train stops for riders to see the Hoffman Grist Mill, featuring a rebuilt working waterwheel that mills flour.
Be sure to visit the Fred Schmidt Railroad Museum inside the railroad depot and enjoy the exhibits of memorabilia and model trains.
5. Big Spur | 1810 N Buckeye Ave
6. Statues
8. Murals
Celebrate the old west by visiting these murals!
9. Tom "Bear River" Smith Tombstone | Abilene Cemetery, 501 NW 4th St
Tom handled the cowboys not by pulling his guns but would first talk to them politely. If that didn't work, he used his fists. Big Hank and Wyoming Frank were the first two cowboys to learn that Marshal Smith meant business. Both had defied him only to find themselves picking their bodies off the floor, being knocked down by Smith's two big fists.
Most cowboys and the townspeople respected Smith and gave him very little trouble. However, Tom Smith was killed in the line of duty. On November 2, 1870, Smith and his deputy rode out northeast of Abilene to bring in two settlers who were accused of killing a third farmer whose cattle destroyed their crops. As Smith rode up to their dugout, he was shot falling from his horse. The deputy, thinking Smith was killed, turned around and rode back to Abilene to get help.
By the time he came back with help, they found Smith's body lying on the ground with his head nearly severed by an ax. The two men were found, and both were sent to prison.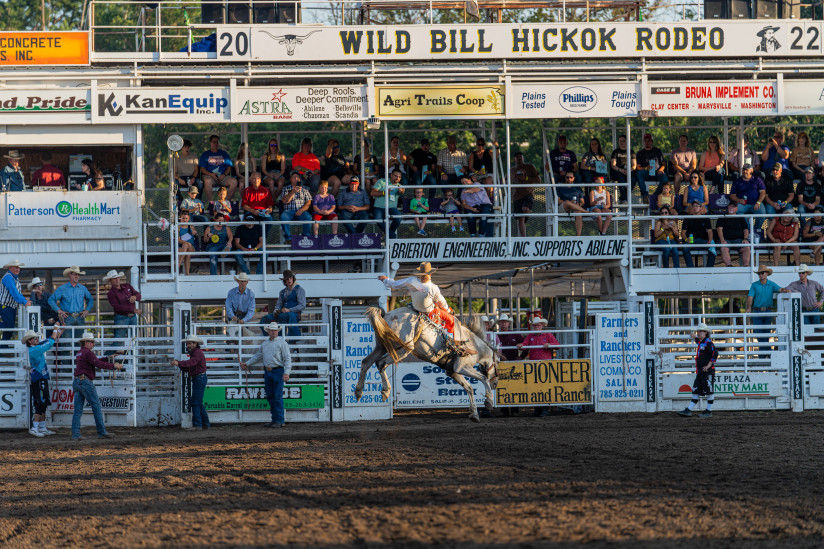 Today, Abilene honors Wild Bill's Legacy with not only a mural and museum exhibits but an entire PRCA rodeo named after him. The Wild Bill Hickok Rodeo, named one of the best medium-sized PRCA rodeos in the country, attracts thousands of spectators and contestants each year in August. 
Dining
Hitching Post Restaurant and Saloon
, 100 SE 5th Street, at Old Abilene Town or
Legacy Kansas – Munson's Prime & Brookville Hotel
, 105 E Lafayette Ave.
Or, grab a drink at Abilene's newest bar, the Dizzy Donkey Saloon, 311 N Spruce St. 
---