Kansas Media Event - Welcome Party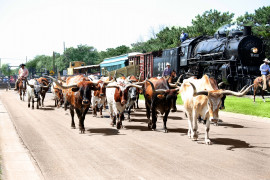 Details
Kansas Tourism selected Abilene to host the 2022 Kansas Media Event. During this time, more than 40 travel writers from throughout the country will visit Abilene and explore all we have to offer. So... we're kicking off the event with a Welcome Party at Old Abilene Town!
**NO COST TO ATTEND**
4:00 p.m. - Old Abilene Town
See the new Chisholm Trail Museum and Interpretive Center in the Way Station at Old Abilene Town and see an original longhorn from the Bulls Head Saloon!
Visitors can stroll the boardwalk, just as Wild Bill Hickok did during Abilene's wild and woolly days. Get a taste of the Old West by drinking an ice-cold sarsaparilla and watching can-can dancers as they perform on stage and on the bar from the original Alamo Saloon. Gunfighters also stage mock shoot-outs during the summer travel season.
Old Abilene Town also hosts Chisholm Trail Days during Labor Day weekend. Enjoy live cattle drives through Old Abilene Town, reenactors, country music performances and more!
Be sure to check out the Great Western Cattle Co. building to see a complete re-creation of Abilene's original Texas Street.
4:00 p.m. - 8:00 p.m. - Stagecoach Rides at Old Abilene Town
Ride through Old Abilene Town in style with Paige Westfall of Wild Heart Carriages and Old Abilene's Town's iconic Stage Coach.
4:30 p.m. - Longhorn Cattle Drive
On September 5, 1867, the first load of cattle was shipped via rail from Abilene, Kansas. The trail from Texas to Abilene would eventually be called the Chisholm Trail. From 1867-1872, more than 3,000,000 head of cattle were shipped east from Joseph McCoy's cattle pens.
Watch a re-enactment of the longhorn cattle drive through the streets of Old Abilene Town and see them board the train.
5:00 p.m. - Ride the rails on a 100-year-old steam engine  
Enjoy a short ride aboard the Abilene & Smoky Valley Railroad's 1919 Baldwin 4-6-2 "Pacific" type steam locomotive. The Santa Fe #3415 was moved to its present location at the Abilene & Smoky Valley Railroad in April 1996 from the City Park where it spent the previous 40 years. It is the only operating steam locomotive in Kansas and only of only a few former Santa Fe steam locomotives in the United States. It operates on a five-mile-long track (former Rock Island Railroad branch) that is owned by the ASVRR. 
The railroad operates both a Steam and Diesel Train from May to the first weekend in October. The train departs Abilene eastbound for a 10.5-mile round trip through the Smoky Hill River Valley to the neighboring community of Enterprise. There, the train stops for riders to see the Hoffman Grist Mill, featuring a rebuilt working waterwheel that mills flour.
Be sure to visit the Fred Schmidt Railroad Museum inside the railroad depot and enjoy the exhibits of memorabilia and model trains.
*Rides provided for FREE!
6:00 p.m. - Cowboy Poetry
Enjoy cowboy poetry performed by Cowboy Poet Lariat, Ron Wilson.
6:30 pm - Live Music
Country and Classic Rock Entertainment performed by local artists Keep the Change.
Location
Old Abilene Town, 201 SE 5th St
---