Lunch & Learn: WWI and the Introduction of the Fossil Fuel Era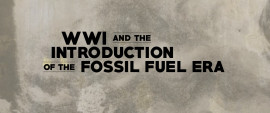 Details
World War I forever changed human reliance on fossil fuels such as petroleum, a product considered essential to military and economic progress that altered battlefield expectations of how the war was fought. Join Penn State Altoona's Brian C. Black for a discussion on how the Great War informed the 20th century's use of various energy sources, including "black gold," and the fuel's enduring impact on our environment and climate today.

Presented in partnership with the Linda Hall Library and National WWI Museum and Memorial.

This program is presented in Kansas City on Wednesday, Jan. 22 and in Abilene on Thursday, Jan 23.
Location
Eisenhower Presidential Library and Museum
---