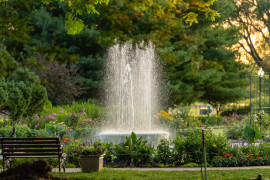 Details
Don't miss the first annual "Petals at Their Peak" Garden Party at Eisenhower Park and Rose Garden, 500 NW Pine St., Abilene, on July 15 & 16.
Saturday
Saturday Arts in the Park will feature the Arts Council of Dickinson County with artists painting in the park and opportunities for you to join them by painting on a purchased canvas alongside the pros. There will also be a Children's Art Exhibit, Photo Contest, and other activities. See www.artscouncildc.org for more details.
Sunday
Come to see the Rose Garden's "Petals at their Peak." It will be a great time for photography. We will feature the history of the park with free guided garden tours by Joy Maas, City Horticulturist, at 7 a.m. and 8 p.m. with questions and answers. 
Free classes on "You Too Can Have a Green Thumb" will be held from 9-10 a.m. and 1-2 p.m. with seating in the Gazebo.
Location
Eisenhower Park and Rose Garden - 500 NW Pine St
---