Top 10 True Western Towns of 2018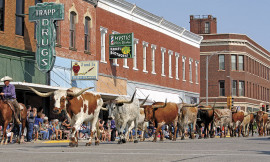 Abilene only needed five years to enter Western Legend. Between 1867 and 1871, Texas cowboys drove longhorn cattle to Abilene on the Chisholm Trail, and after a shave and maybe a new hat, the young men naturally sought amusements, often with six-shooters.
As the Kansas Historical Quarterly noted, "If their fancy told them to shoot, they did so, in the air or at anything they saw, and a plug hat would bring a volley from them at any time, drunk or sober."
Modern Abilene has done a first-rate job of preserving those wild times, especially in its celebration last year of the 150th anniversary of the Chisholm Trail. For that reason, we name Abilene our top Western Town for 2018.
---