Beyond the Valley: Abilene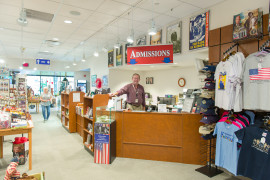 The planned part of our trip came to an end when we departed Branson, and from there on, we would make it up as we made our way home. Googling historical sites, I found the Dwight David Eisenhower Presidential Library, Museum, and Boyhood Home located in Abilene, Kansas, just a mile and a half off the main highway, and there was a RV Park near as well, so what a find. Dwight D. Eisenhower was our 34th President (1953-1961).
We spent a large part of the day taking in the vast amount of history housed there. First, we watched a 23 minute video summarizing Eisenhower's life and career. Fondly referred to as "Ike," the film was amazing and emotional as well. I was a young child when Eisenhower was the President of the United States, but I remember how much my parents and other family members admired this great man, and I think it is just something that has stuck with me.
---