5 WAYS TO EXPERIENCE THE HISTORY OF ABILENE, KANSAS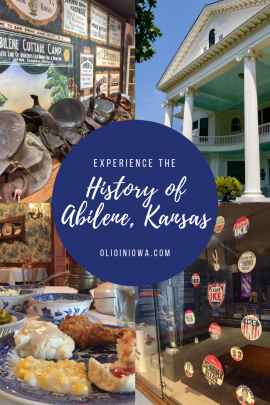 For a town of less than 7,000 people, Abilene, Kansas has some seriously big local history. From a presidential library and museum to more than 40 sites on the National Register of Historic Places, there's a historic site for every sort of traveler in this Kansas community.
Established in 1857, Abilene became an early stagecoach stop on the Kansas frontier. A decade later, the Union Pacific Railroad barreled across the Kansas plains passing through Abilene. Around the same time, large stockyards were established north and east of the city. Both of these things perfectly positioned Abilene to be the first "cow town" of the west. Abilene's growth was accelerated even further when the Chisholm Trail ended in town from 1867 to 1871. Along with hundreds of thousands of cattle, this brought all sorts of travelers to Abilene and made the Kansas community one of the wildest towns in the west.
Today Abilene is a little less wild. But no less worth visiting. This Kansas community is full of interesting stories, passionate locals, and destinations worth the trip. The next time you're in the area, take some time to discover five unique ways to experience the history of Abilene, Kansas.
---