Celebrating the holidays in Abilene, Kansas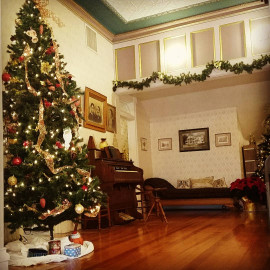 Abilene enjoys the holiday season. From Seelye Mansion decorating its 25 rooms to people showcasing their homes, Abilene is a fun place to celebrate the season.
Seelye Mansion
A must-see attraction when visiting Abilene, the holiday season makes Seelye Mansion a top-rated attraction. Decorations include dozens of Christmas trees and more than 75 poinsettias, as well as 750 nutcrackers. While tours take up to two hours, they are worth every minute. The mansion's owner encourages visitors to join him in singing Christmas carols as he plays a 100-year-old Steinway piano.
---