Cedar Street Market Antiques seeks bigger role for downtown Abilene, Kansas, shopping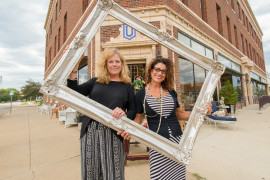 Opened in 2015, Cedar Street Market Antiques occupies the former United Utilities building in the Downtown Historic District. More than 100 buildings – built in the late 19th and early 20th centuries – comprise the historic district. CL Brown, who founded United (formerly known as Brown Telephone) operated almost 15 businesses out of the building, Brunner said.
When the Manhattan, Kan., native decided to live in Abilene full time – she's owned a Victorian house in town for more than 20 years – she thought an antique store would work. Sitting at a major intersection, Cedar Market Street Antiques is in a prime location for shoppers. Abilene's downtown is an attractive mix of businesses, including Rivendell bookstore and the Jeffcoat Photo Museum. The district is also home to clothing and hardware stores, as well as restaurants. Murals depicting Kansas history are painted along buildings.
---