Abilene, Kansas – Staying at the Engle House Bed & Breakfast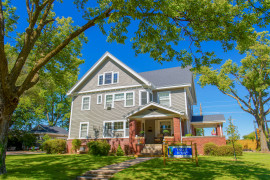 Historical houses tend to make the best bed and breakfast inns. The Engle House in Abilene, Kansas, is a perfect example of that rule. Built in the early 1900s, its owners transformed the house into the city's best bed and breakfast inn.
Chris and Scott Ostermann bought the house in 2014 with intentions to renovate and then sell it. Unbeknownst to the would-be house flippers was that the Engle House was more than just an old building in need of repair, its history included connections to a local building legend and an American president. Built around 1910 by noted architect Jacob Krueger, the Ostermanns found his name written among the trim work. The more they looked into it, they discovered letters and more to confirm Krueger indeed designed the house. Krueger also designed Seelye Mansion for Dr. AB Seelye and his family.
---