Hit the Road: Kansas Has New Attractions in 2019!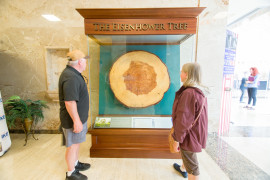 Make plans for a packed itinerary of Kansas adventures in 2019, highlighted by a trek to the unearthly badlands of Little Jerusalem state park. Fan out across the state to the updated Eisenhower Presidential Museum in Abilene, Wichita's new shipping-container mall, sesquicentennial shindigs, and other road-trip-worthy celebrations and attractions.
Much-anticipated Little Jerusalem Badlands State Park near Oakley is expected to open to the public by mid-year. The mile-long valley of 100-foot-tall spires and cliffs encompasses the state's largest Niobrara Chalk formations, which previously had no public access. Trails cross the historic territory that once saw the likes of "Wild Bill" Hickok and "Buffalo Bill" Cody pass through, and today is home to wildlife and plants rarely found anywhere else in the world.  
---