D-Day remembered in Abilene, stories shared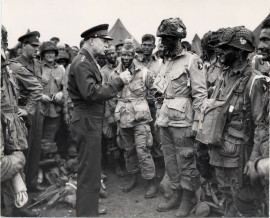 Moments in time, captured and held tight, commemorating a day in history that changed our country, and our world.
"We're glad to be here. Glad to be able to be here. Glad I'm still alive to be here," says Thomas Dixon and Ralph Lentz.
Thomas Dixon and Ralph Lentz remember vividly where they were 75 years ago, when Allied forces stormed the beaches of Normandy.
"I was in high school. They dropped the bomb in Japan and I thought will I be out of high school before this is over? I kept hoping it would be over before I got out but it wasn't."
General Dwight D Eisenhower led the charge that day. His proud granddaughter, took a moment to remember.
"It, shall we say, shaped my grandfather for the rest of his life. I think the special part about this particular celebration is that it's here in Abilene. Abilene never left his heart no matter where he was in the world," says Mary Jean Eisenhower.
---