Remembering Ike: How Eisenhower's military career shaped his presidency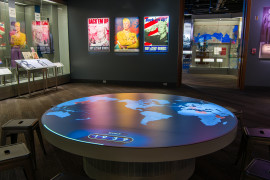 Honoring Ike appears to be the "in thing" these days. In Washington, D.C., a memorial to Eisenhower will open in the spring, and if you want to be inspired by Eisenhower right now, the place to go is his hometown of Abilene, Kansas, where they just completed a major renovation of the Eisenhower Museum. 
President Eisenhower's time in office has been called the "hidden-hand presidency" because of how effectively he operated behind the scenes. He proposed NASA; was instrumental in the civil rights movement; and even created the interstate highway system.
"That's Ike; Ike did a lot of things you don't know about," said Dawn Hammatt, director of the newly-renovated Eisenhower Presidential Library, Museum & Boyhood Home, which hopes to change that. 
---