Your Guide To Hand-Crafted Carousels In And Around Kansas City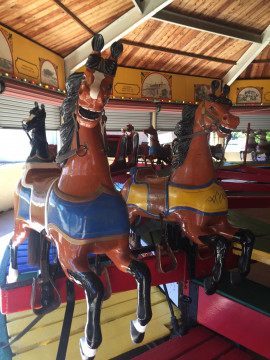 Step right up, ladies and gentlemen, boys and girls, for a tour of nostalgia, charm, craftwork and childlike joy. The merry-go-rounds of Missouri and carousels of Kansas are the cheapest rides on some of the finest examples of Americana folk art.
Most of the estimated 2,000-3,000 carousels built in the U.S. around the first half of the 20th century fell into disrepair or were disassembled for collectors. Only about 150 remain from the period, and five of them are here in our region.
Fortunately, a new generation of makers sprang up in the last 30 years, preserving the old styles and creating their own.
Enjoy this merry-go-round-up that takes you around the Kansas City metro and beyond!
---