Open Since 1870, Brookville Hotel Has Been Serving Chicken Dinners In Kansas Longer Than Any Other Restaurant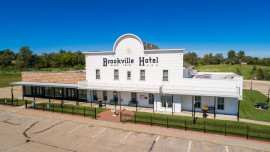 Chicken dinners in Kansas aren't something new to us, but that's because places like the Brookville Hotel have been serving them for over 100 years. To have customers for this long, you're definitely doing something right, and that something happens to be fried chicken. Come learn more about this historic restaurant that's been serving up smiles for decades.
Welcome to the historic Brookville Hotel, a restaurant thankfully still around today that started off in 1870. The chicken dinners served by staff at the Cowtown Cafe (as it was called originally) just couldn't be beat.
---