The Best Classic Restaurants in Every State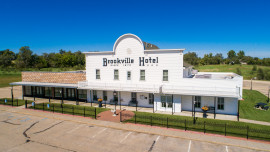 As rides go, the last 20 years have pretty much had it all. Thrills, spills, twists, turns, all at blinding speed—never mind those few flips upside down they didn't warn you about—and here we are, just talking about the food. You can get off rides, but this one doesn't seem to want to end, with city after city across the United States growing their respective restaurant cultures so quickly, it's almost dizzying, even if we're still terribly excited for what's next.
Surfing from trend to trend, here today, gone tomorrow—as fast as we're into something, we're almost over it. For quite some time, this has been our normal, going back at least to the Great Recession, and nearly to the beginning of the century. At the dawn of a new decade, we're still looking ahead, but this time, also asking, ever so quietly, in the nicest possible way: What if we slow down for a minute and take a few deep breaths? What if we took some time to appreciate what's already here?
---