This Notorious Flyover State Is So Weird It's Worth Driving Through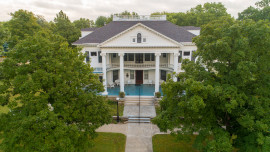 Consider building sightseeing time into your next I-70 trip across Kansas.
There's nothing quite like a cross-country road trip to clear your head and stimulate your senses. But if you only follow interstates, including I-70, you're bound to miss out on some unexpected sights. That's definitely true in Kansas. So consider building in sightseeing time on your next trip through the state. Kansas only ranks behind Colorado for hosting the longest stretch of this iconic road, which crosses 10 states. And there's much more than a bunch of flat land in this Sunflower State. Kansas is full of unusual shops and museums as well as historic and natural wonders. So jog off I-70 for a quirky taste of this exceptionally wide and surprisingly diverse state.
---