The Best Hotel in Every State, Under $100 per Night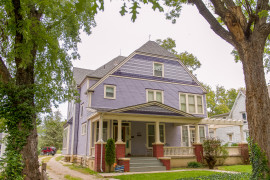 Budget Travel in All 50 States
Finding a hotel that costs less than $100 per night can be challenging, particularly if you're looking for a property that provides a clean, comfortable, and enjoyable stay for rock bottom prices. With that in mind, we scoured online booking sites and guest reviews to identify properties in each state that offered a combination of budget-friendly pricing, notable value for the price, and overwhelmingly positive reviews from past guests. Here's your 50-state guide to some of the best hotels in the country for under $100 per night.
Kansas: Abilene's Victorian Inn
Location: Abilene
Price: $79
This award-winning property, which has been named Kansas Hotelier of the Year, is a full-service bed and breakfast in the heart of Abilene. The charming property, a Queen Anne Victorian home that dates back to 1887, is listed on the Kansas State Register of Historic Places. It was the home of Dwight Eisenhower's boyhood and lifelong friend Swede Hazlett. All guest rooms at the inn include private bathrooms and three even feature large, walk-out balconies. The property is also convenient to the Eisenhower Presidential Museum and Library. Room rates start at $79 and include breakfast, Wi-Fi and on-site parking.
---