Carriage Rides Warm The Heart…..Abilene Muleskinner Best Known As Old Town Stagecoach Driver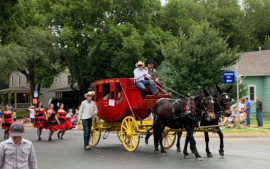 "There is something about the outside of a horse that is good for the inside of a man."
The often repeated quote is generally true.
"Yet, riding in a horse drawn vehicle is one of the most relaxing pacifying forms of recreation."
Paige Westfall insists: "Nothing compares to that heart satisfying feeling of freedom with the fresh natural fragrance of real horsepower."
Well that might actually be miniature donkeys, big mules or stout draft horses, each part of the Equus family.
"I have them all and despite differences they're really fun to drive," Westfall claims. "Wherever we are people just go and on how much they enjoy riding in the vehicles towed by our animals."
Adrenaline flowed with excitement as Paige Westfall talked about Wild Heart Carriages business developed from her love for driving donkeys.
---