I-70: 50 Years of Family Vacations, Sunday Drives and Roadside Attractions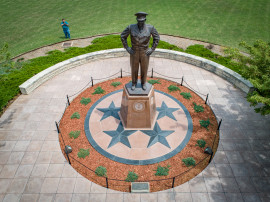 2020 marks the 50th anniversary of the completion of I-70 in Kansas. This 424-mile stretch helped pioneer travel and shape how we hit the pavement today. President Eisenhower's vision extended beyond providing accessible roadways for Americans and infrastructure to protect our borders, to expanding on travel and tourism, a $7.1 billion industry in Kansas*. Some of these attractions along I-70 were around to see the effects of the interstate system, while many are a result of the triumphant expansion.
I start to think back to 1970 and what travel looked like for American families. I-70 provided coast to coast accessibility while the automobile manufacturers reached peaked efficiency, thus making the automobile a staple in American households. World War II was the driving force behind leisure tourism in the United States. Soldiers returning home after traveling the world had this yearning to see more of their homeland and they wanted to experience this with their spouses and children. The American Family Road Trip was born, and the roadside attractions blossomed.
---