Dwight D. Eisenhower Presidential Library – Abilene Kansas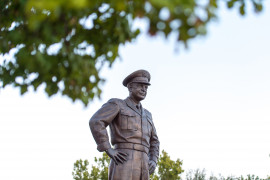 On Day 4 of my cross-country solo road trip, my goal was to drive 443 miles (712 KM) from Manhattan, Kansas to La Junta, Colorado where my next lodging was booked. I expected to drive around 7 hours and was going to gain an hour due to the change from the Central to Mountain Time Zone, so I had some extra time to stop and smell the roses along the way.
I left my lovely Airbnb (more on that in another post) around 9:00 am and headed west. After only about an hour on the road, I saw a billboard for the "Eisenhower Presidential Library, Museum and Boyhood Home" in Abilene, Kansas (USA), and couldn't resist exiting the freeway to check it out.
---