Industry Recognizes Excellence in Kansas Tourism Marketing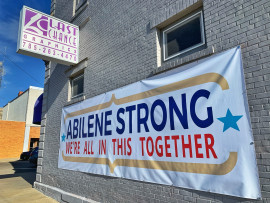 The Travel Association of Kansas (TIAK) announced yesterday the winners of this year's Marketing Awards during the virtual 2020 Kansas Tourism Conference.
The TIAK Marketing Awards are chosen annually to recognize excellence in destination marketing initiatives across the state. They are divided into six categories and broken out by the organization's marketing budget: Large (over $100,000), Medium (20,000 – $100,000), and Small ($19,999 and under).
Abilene Convention & Visitors Bureau won in the medium budget category Community Awareness Campaign for its #ABILENESTRONG campaign.
Loved this. Right time for showing solidarity. Working together and showing local support was a great internal community awareness.
These are very heartwarming! The Abilene Strong video is the winner for me, it's compelling and so earnest.
The power of a viral campaign! Successful tagline/hashtag, "Abilene Strong" became recognizable and spread like wildfire!
---