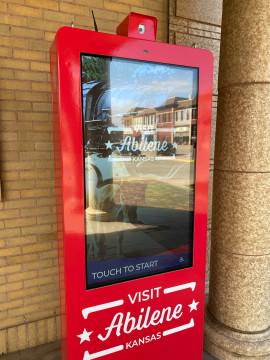 Visitors to Abilene now have a new way to find tourism attractions, retail businesses, and restaurants. Thanks to SPARKS (CARES act) funding from Dickinson County, the Abilene Convention & Visitors Bureau now has an outdoor digital kiosk. The kiosk is located on the east end of the Abilene Civic Center (Union Pacific Train Depot) at 201 NW 2nd Street.
"The kiosk is like a giant smartphone," said Julie Roller Weeks, Abilene Convention & Visitors Burau director. "Everything that is on our website is also on the kiosk."
One benefit of the kiosk is its availability and ability to send directions directly to a user's phone or email.
"Many travelers rely on GPS to help them navigate new communities, the kiosk sends directions to a user's phone so they can click on the link and receive additional guidance," Roller Weeks said.
The unit also has a photo booth and guestbook to track visitation.
"We're excited to track its usage and hope this makes visiting Abilene easier," she said.
For more information about visiting Abilene visit AbileneKansas.org.
---