Amanda's Bakery & Bistro Celebrates 10 Years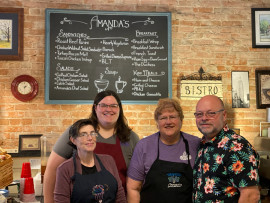 Growing up, Amanda (Riffel) Collins had no intention of opening a restaurant and bakery. Instead, she aspired to become a Veterinarian.
"My mom baked for the schools for 20 years, but it wasn't until I took Meta West's catering class that I realized this was something I wanted to do," said Amanda Collins.
Like many growing up in Dickinson County, Amanda got her start in 4-H.
"Kathy Hoffman was our club's foods leader and taught us how to bake," she said. "My dad jokes that he knew I would enjoy baking because I could be found watching Julia Childs on PBS."
After High School, she joined the Kansas State University Track Team and traveled throughout the country.
"I always wanted to travel and participating in track allowed me to visit different states," she said.
During the summers she worked for a variety of area restaurants including Mr. K's Express and the Salina Country Club.
In 2004, Amanda married, returned to Abilene, and finished her classes at K-State to graduate in December. The following year, she began working for Vangie Henry at the Kirby House.
After working for Henry for 5 years, she decided to branch out on her own.
"Telling Vangie I was leaving was one of the hardest things I had to do, but she encouraged and supported me to make the transition," Amanda said.
With the help of her parents, Rod and Darlene Riffel, Amanda's Bakery and Bistro opened on April 1, 2011, in a small space behind present-day Rivendell Bookstore.
 "In six months, we knew we needed a larger space and found our current home at 302 N Broadway," she said.
After ten years in business, crowd favorites still include the Turkey Bacon Melt and the Chicken Walnut Salad Sandwich, which is made in-house. Her scones and gooey bars are also very popular.
When asked about her favorite memory, she said there are so many. She served former White House Press Secretary Marlin Fitzwater and former Senator Nancy Kassebaum is also a regular. After the closure of the soda fountain next door, the coffee club transitioned to her space and she enjoys their company.
While she is open five days a week, Tuesday-Saturday, she also bakes cakes and caters for special events.
"I enjoy catering because you know how many people to feed so it makes planning a lot easier," she said.
Like many small businesses, Amanda's Bakery and Bistro is a family business. Amanda's parents help daily, but she says at times she struggles to find additional help.
The biggest challenge in running a business in a small community is the desire to please everyone.
"I want to have everything people want available, but it's impossible to plan for," she said. "Our Throwback Thursday meals featuring some of the school lunch favorites, like Huntington Chicken, are also very popular and draw large crowds so we work hard to have plenty available."
In addition to menu items, she is also known for her pies. Customers can special-order pies ahead of time or purchase them year-round at Chapman Food Mart.
"From November to December we generally make 500 pies for families to serve at their gatherings," she said.
While 2020 was a difficult year for small businesses, Amanda says the community stepped up to show its support.
"The pandemic was very hard, but the community supported us by ordering curbside meals and purchasing gift certificates."
Amanda invites the public to celebrate her 10 years in business on Saturday, April 17 with specials, anniversary cake, and giveaways.
To learn more visit Amanda's Bakery & Bistro on Facebook.
Pictured left to right: Heidi Reeves, Amanda Riffel Collins, Darlene and Rod Riffel.
---