Iron Horse Trail Informational Meeting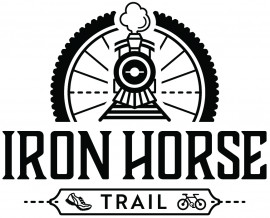 Spurring economic development through increased outdoor recreation opportunities is the goal of the Community Foundation of Dickinson County's Community Philanthropy Innovators Network (CPIN) committee.

The CPIN committee is looking at partnering with the Abilene & Smoky Valley Railroad to create The Iron Horse Trail, a nearly 20-mile trail from Abilene to Enterprise to Woodbine using the railroad's right-of-way.

The Iron Horse Trail will also serve as a gateway to the Flint Hills Trail State Park that begins in Herington and continues to Osawatomie.

An informational meeting about the Iron Horse Trail is planned for 7 p.m. Wednesday, May 5 at the Abilene High School Auditorium.

"The CPIN committee met over the last year to identify ways to spur economic development in Dickinson County communities," said Elizabeth Weese, Community Foundation of Dickinson County director.

"While our initial project was downtown redevelopment, we pivoted to focus on outdoor recreation and trail development, to attract new visitors and potential customers to our downtowns."
The CPIN committee is part of a statewide, peer-learning cohort, in partnership with the LOCUS and Aspen Institute to help community foundations across Kansas take leadership in community economic development.

This initiative is being sponsored by a grant from the Kansas Health Foundation.
CPIN Committee members include Kat McKee, Julie Roller Weeks, Chuck Scott and Elizabeth and Dennis Weese. The committee also enlisted input from stakeholders, trail experts, community members and business owners.

"Outdoor recreation is very popular," said Julie Roller Weeks, Abilene Convention & Visitors Bureau director. "While we are home to many popular museums, we are not currently attracting outdoor recreation enthusiasts (and their dollars) to our community. By developing a trail, we create opportunities to attract new visitors and new events to our community."

In addition to visitors, the trail also provides an opportunity for residents to safely walk or bike throughout the county.

"Our goal is to make this a trail for everyone and we hope the increased traffic will spur additional economic development initiatives," Weese said.
 
---