Road Trip: Your Guide To Summer Adventures Across Central Kansas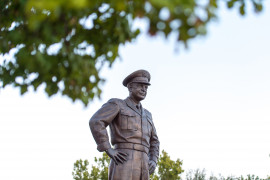 While it may not be first in mind when you think of a road trip destination, the key to a good Kansas adventure is to get off the beaten track — and by track, we mean I-70. The straight shot west makes the whole state seem like an endless track of asphalt and billboards, but that's hardly the case.
Travel by state routes and back roads to get closer to the scenery. By moving at a slightly slower pace, you can better appreciate the changing environment on your journey.
You'll catch glimpses of wildlife — falcons, prairie chickens, bison and jackrabbits — against the backdrop of farms and wildflowers. And the state is peppered with mini-museums, scenic byways and nature preserves.
Here are a few day trips and some overnight options to explore the great wide west. Or, string these options together for a weeklong sojourn.
---