How to appreciate the beauty of Kansas like an out-of-state tourist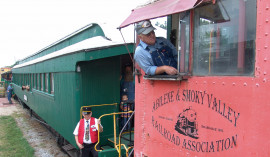 Our host told a story as the Abilene and Smoky Valley Railroad excursion train pulled away from town: Years ago, a local young woman turned down the offer of a date from a local young man — he was not counted among the area's most desirable suitors, and pressure from her family to say no was too great to risk saying yes.
That young man was Dwight D. Eisenhower.
For those hitching a ride on the Abilene and Smoky Valley Railroad, President Eisenhower is ever-present. For me, with childhood roots in Kansas and a previous trip to his Presidential library under my belt, the local admiration for Ike was not new. For my group of friends visiting from the East Coast, the history was captivating. For all of us, the entire experience dug deeper than the history. This was not a simple historical tour. Instead, it illustrated what this region of Kansas has to offer.
---