Bulls Head Saloon Longhorn Coming Home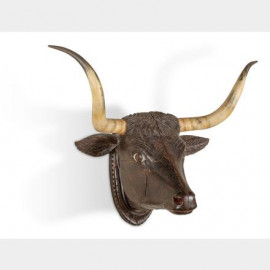 Thanks to more than 70 donors from Abilene and throughout Kansas, "Shotgun" Ben Thompson's Bulls Head Saloon Longhorn is returning to Abilene.
"We are beyond excited to bring this unique piece of Abilene's history back to our community," said Julie Roller Weeks, Abilene Convention & Visitors Bureau director.
According to a signed document from the late Jack Glover, an old west collector and its most recent owner, the bull head is from the saloon that belonged to "Shotgun Ben Thompson" in Abilene, Kansas. The name of the saloon was the "Bull Head" and was headquarters for the drovers that trailed cattle from Texas to Kansas in the late 1860s and 1870s.
Glover attested he purchased it from Marvin Tong. Tong was the curator of the Museum of the Great Plains in Lawton, Oklahoma. How Tong came into possession of the longhorn is unknown.
"When visitors come to Abilene, they want to see pieces from our Chisholm Trail days, this longhorn is an important part of telling that story," Roller Weeks said.
Purchased during the live auction on Saturday, Abilene's donors faced several other bidders but ultimately prevailed with a bid of $11,000.
Now, the volunteers at Old Abilene Town will begin work on a secure case to display the longhorn's 40" horn spread. Lowell Westfall volunteered to travel to Santa Fe, New Mexico to pick up the longhorn to bring it back to Abilene. A special "first look" reception will be held for the donors at a later date. Anyone still wishing to support this effort, including donations for supplies for the display case and signage can donate online at www.AbileneKansas.org/longhorns or directly to the Community Foundation of Dickinson County, 418 NW 3rd Street.
"The community rallied around this effort to preserve and promote our history," Roller Weeks said. "It's a great day in Abilene!"
6/14/2021
Community Members Rally to Bid on Historic Set of Longhorns
Thanks to a Google Alert, a group of citizens are trying to bring a historic set of longhorns back to Abilene.
"I received a Google Alert for Abilene, Kansas and was surprised to see an auction for a carved bull head and longhorns from Ben Thompson's Bulls Head Saloon," said Julie Roller Weeks, Abilene CVB Director. 
The hand-carved wooden bull head has real horns and a special place in wild west history. The piece consists of a 40" horn spread, 30" tall, and 21" deep. It originally hung in Abilene's Bulls Head Saloon that belonged to notable Old West personality "Shotgun Ben Thompson".
The authenticity of the longhorns has been substantiated by the Kansas State Historical Society and a notarized letter attesting to its history from noted collected Jack Glover accompanies the piece.
Bulls Head Saloon
According to Abilene Historian, Michael Hook, the Bulls Head Saloon was one of the most famous saloons in Old West lore. The Bull's Head was brought to attention by the townsfolk after a racy mural was painted on the side of the saloon. The public outrage led marshal Wild Bill Hickok to the saloon asking the owners to alter the questionable area, but owners Phil Coe and Ben Thompson refused. Wild Bill altered it himself and thus started a rivalry between the two owners for the next few months.
In October, 150 years ago, Wild Bill killed Phil Coe outside of the Alamo Saloon. He also accidentally shot and killed a young lawman, Mike Williams. This is considered Wild Bill's last gunfight. 
Donations
Community members are being asked to donate to a special Old Abilene Town – longhorn fund at the Community Foundation of Dickinson County to help bid to bring back this important piece of history to Abilene. According to Brian Lebel's Old West Auction, the piece is valued at $6,000-$8,000. 
The live auction will take place Saturday, June 26. Community member John Kollhoff has agreed to be the community's bidder.
If successful, the donors will then help find a suitable and safe place to display the longhorns. If unsuccessful, the donors will work together to identify another project for their collective donation.
Donations must be received by Friday, June 25, and are considered charitable contributions. To date, almost $4,000 has been raised to bring the longhorns home.
To learn more or donate, please visit AbileneKansas.org/longhorns or send a check to the Community Foundation of Dickinson County, 418 NW 3rd Street, Abilene, KS 67410.
"So few artifacts remain from Abilene's Chisholm Trail and cowboy days that this set of longhorns needs to return to our community," Roller Weeks said. 
Photo credit: Brian Lebel's Old West Auction.
Provenance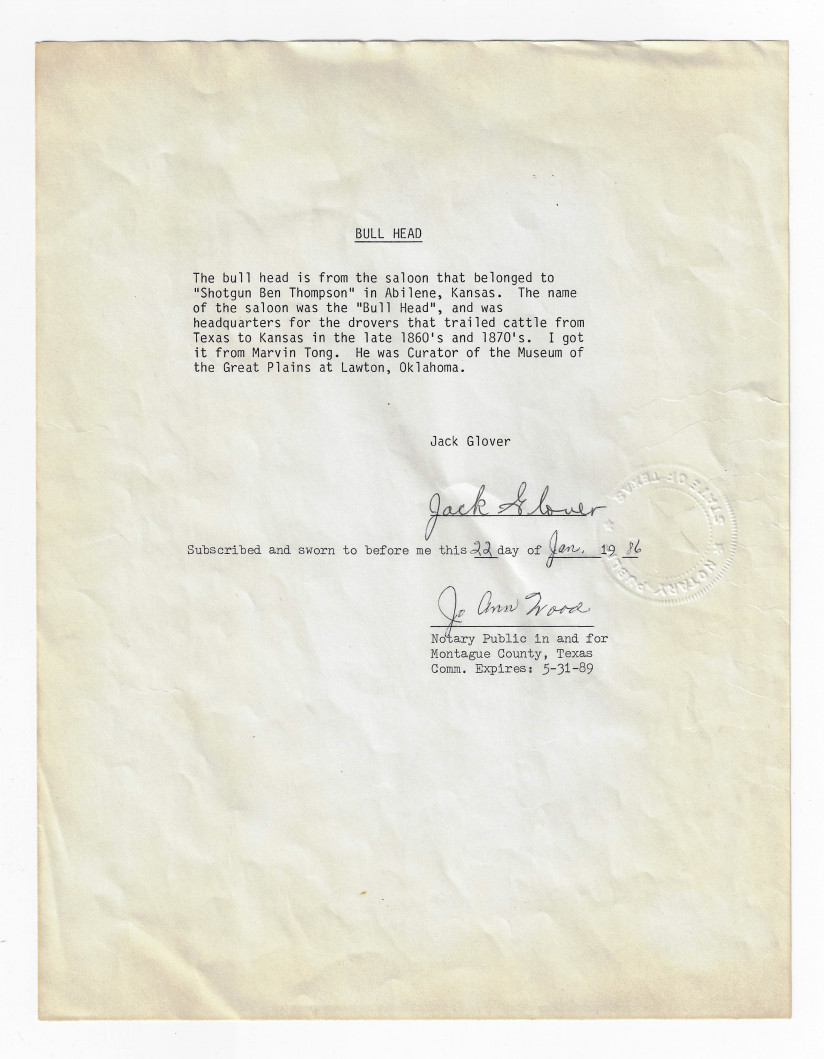 Donors
Abilene Kansas Rotary Club
Abilene Physical Therapy and Sports Rehab - Tonya Mills
Anonymous
Anonymous
John & April Barker
Bennington State Bank
Allison Blake
Bob & Carol Brazil
Chuck & Ann Brussow
Tom & Penny Capsey
Cody & Becky Chase
Glen & Joan Dawson
Mary Eisenhower
First Bank Kansas
Alex Foltz
Casey & Jane Foltz
Randy & Susie Gassman
Tony & Sarah Geiger
Sarah Green
Anjan Gosh Hajra & Mrs. Suruchika
Daniel Hale
Rob & Dawn Hammatt
Matthew Helmer
Tim & Brenda Holm
Michael & Amy Hook
James Holland
Bill & Marlene Howe
Erik Howell & Allison Thon
Ingermanson Farms
Twila Jackson
JRI Hospitality
Michael Kaiser
Jacque Karl 
Andrew & Lisa Kijowski
Michael & Jacque Kijowski
Todd & Kelli Kohman
Drs. John & Sue Kollhoff
Doug & Marlene Lindahl
Ron & Amy Marsh
Bill & Dee Marshall
John & Mary McDonald
Memorial Health System employees 
Joe & Anita Miller 
Matt & Diana Miller - Ameriprise Financial Services, Inc.
Genevieve Nachtman
John Nachtman
Suzanne Ryan-Numrich
Kimmy, Kynlie & Kaesen Phillips
Pinnacle Bank
Wanda Pitney
Barbara Rairden
Jim & Teresa Reimer
Brandon Rein
Curtis & Sandy Rein
Terry Schmidt
Gregory Schmitt
Martin & Marcia Schneider
Becky Schwab - NextHome Unlimited
Dr. Steve Schwarting
Dr. Timothy & Kim Shafer
Audrey Sheets
Jeff & Meredith Sleichter
Carol Spitcaufsky
Lyle & Sara Squires
Jacqueline Staab
Dr. Damien & Michelle Stephens - Stephens Chiropractic 
Jason & Jamie Stroda
Ann M. Strunk
Brian J. Tajchman - American Family Insurance
Tossed n Sauced Pizza
Ryan & Julie Roller Weeks
Dennis & Elizabeth Weese
Lowell & Paige Westfall
Bryan & Cassy Wilson
David & Julie Wilson
Greg & Marcia Wilson
Mark & Teresa Wilson
Evan & Annette Wilson
Bruce & Denise Youtsey
Updated 7/9/2021
About Shotgun Ben Thompson
From the Kansas State Historical Society
Born: November 2, 1843, West Yorkshire, England. Died: March 11, 1884, San Antonio, Texas.
Ben Thompson was born in Knottingley, Yorkshire, England in 1843. His family soon moved to Austin, Texas, where he grew up. He became a professional gambler while yet a teenager and killed a man at the young age of 17. The man had been harassing a young woman, and threatened Thompson with a knife when he confronted him. Thompson was acquitted of all charges.
Thompson served with the Confederate army during the Civil War, exiting his service with a good record. Shortly after however he was sent to prison for murder. He quickly escaped prison and headed to Mexico, where he joined up with Emperor Maximilian. After the arrest of Maximillian, Thompson returned to Texas. Shortly after arriving home he received news that his sister was being abused by her husband. Thompson assaulted his brother in law, shooting him in the ribs, and was sentenced to four years in prison.
When he was pardoned from prison after two years, Thompson moved to Abilene, Kansas, on the Chisholm Trail. He opened the Bulls Head Saloon there with a partner, Phillip H. Coe, and prospered as the town grew due to the cattle trade. Coe was later killed in a shootout with the town's marshal, James Butler "Wild Bill" Hickok.
After the death of his partner, Thomson moved to another cattle town, Ellsworth. There Ben's younger brother, Billy, accidentally shot and killed the town's sheriff during a dispute with gamblers. The younger brother fled the state while Ben hired a legal team for his defense. Billy was later tried and acquitted of the killing.
Ben Thompson returned to Texas and there met Bat Masterson and Doc Holliday. The Santa Fe Railway hired the men to guard in right-of-way disputes in Texas. At Ben Thompson's request, Masterson went to Dodge City to aid Billy Thompson, who had been jailed in a bar room shooting.
After working for the railroad Thompson went on to perform in Bill Cody's Wild West Show. The city of Austin, Texas, in 1881 hired Ben Thompson as city marshal. He later resigned his position when he was indicted in another shooting. Soon after the resignation Thompson took to drinking, and lost all popularity. He was killed in 1884 in a retribution shooting at the vaudeville theater in San Antonio, Texas.
Ben Thompson said, "I always make it a rule to let the other fellow fire first. If a man wants to fight, I argue the question with him and try to show him how foolish it would be. If he can't be dissuaded, why then the fun begins but I always let him have first crack. Then when I fire, you see, I have the verdict of self-defence on my side. I know that he is pretty certain in his hurry, to miss. I never do."
---