Abilene CVB Takes Home Awards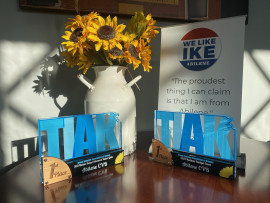 The Abilene Convention & Visitors Bureau received two Travel Industry Association of Kansas (TIAK) marketing awards at the recent Kansas Tourism Conference in Liberal, Kansas.
The CVB's new visitors guide was awarded Best Visitors Guide in the Medium Community Marketing Budget Category.
Judges reviewing the visitors guide commented "Updating the website and brand standards allows you to keep a modernized presence in front of potential visitors. Great design, great photos and use of icons. The guide goes well with your overall look. Great job."
The CVB also received the Best Event Marketing award for its efforts to promote the revamped Eisenhower Marathon.
Other communities in the Medium Community Marketing Budget Category include Emporia, Manhattan and Meriam.
"These awards celebrate the work we do to market the City of Abilene and provide services to tourists and groups," said Julie Roller Weeks, Abilene CVB director. "After a difficult eighteen months, these awards mean a lot."
During the conference, Roller Weeks was also elected president of the association. As president, she will support TIAK's mission of speaking with one voice for the travel industry in the State of Kansas, promoting and supporting all components of the travel industry and travel development field.
For more information about TIAK, visit www.tiak.org.
---