Abilene Named Best Promotion of a Historic Place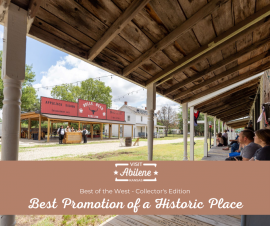 Thanks to True West Magazine for selecting Abilene as the winner of the "Best Promotion of a Historic Place" category in the upcoming Best of the West Collector's Edition.
Best Promotion of a Historic Place
Abilene, KS
The historic Chisholm Trail railhead is the perfect place for the history lover. After a tour of the Dwight D. Eisenhower Presidential Library & Museum, the Seelye Mansion and the Dickinson County Heritage Center, take a ride on the Abilene & Smoky Valley Railroad. And don't miss a tour of Old Abilene Town's historic buildings and "downtown" storefronts, the always popular Old West gunfighters show, and of course, the Can-Can Girls, who kick up their heels on the Alamo Stage every Saturday night from late June to late August. 
The edition starts going out to subscribers today and hits national newsstands on January 4.
---