Abilene CVB Represents Tourism Industry in Washington, D.C.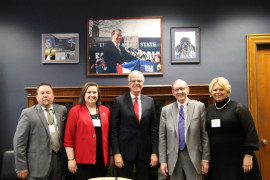 Julie Roller Weeks, director of the Abilene Convention and Visitors Bureau and president of the Travel Industry Association of Kansas, traveled to Washington, D.C., last week to represent the Kansas Tourism Industry at the U.S. Travel Association's Destination Capitol Hill.
The Kansas delegation met with Senator Jerry Moran, Congressman Tracey Mann and Congresswoman Sharice Davids. The group also met with representatives from Senator Roger Marshall and Congressman Ron Estes' offices.
Topics of discussion included: rebuilding the workforce, reigniting in-person business meetings and events, restoring international inbound travel, and reimagining the role of travel and tourism in improving global competitiveness.
"The number one topic we discussed was workforce challenges. Unfortunately, this is not unique to the travel and tourism industry, but all industries," Roller Weeks said. "According to U.S. Travel, nearly 75% of all jobs lost during the pandemic are in the leisure and hospitality industry. The help-wanted signs and ads you see throughout Abilene reinforce that statistic. For tourism to rebound, we must find a way to fill those jobs."
While businesses continue to use Zoom and other online meeting platforms for business meetings, the group asked leaders to encourage corporate leaders and the federal government to return to business and reignite valuable face-to-face connections to restore business travel – a critical segment of the U.S. economy.
"During our discussions, everyone shared their appreciation for the convenience of online meetings but questioned its effectiveness. There is something different about meeting face-to-face that is more meaningful, and it also helps our economy," she said.
In addition to domestic travel, the group discussed the need to restore international travel.
"In Abilene, international travelers come to see or conduct research at the Eisenhower Presidential Library and Museum, watch the Spring and Fall Nationals at the National Greyhound Association, and celebrate the American cowboy at the Old Abilene Town and the Dickinson County Heritage Center," Roller Weeks said. "Unfortunately, International travel remains severely depressed, and it is hurting communities around the country."
Tourism Economic Outlook
In Abilene, the 2022 Transient Guest Tax Collections continue to increase from 2021.
"While the growth is slow, it is steady. I hope a busy summer travel season will help us stay on track to a full rebound and continued growth," Roller Weeks said.
Pictured (left to right): Jim Zaleski, Labette County CVB; Julie Roller Weeks, Abilene CVB; Senator Jerry Moran; Kevin Fern, Visit Shawnee; and Natalie Bright, TIAK Executive Director.
---