The 15 Best U.S. Small Towns for a Summer Vacation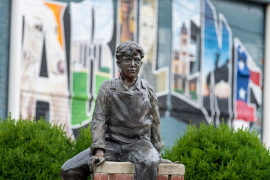 There's just something about a small town in summer that hits a little differently. Perhaps it's the community festivals, the breezy nights walking down Main Street, or an ice cream truck rumbling down a suburban road blaring that all too familiar song. Whatever it is, we've got love for it. And we bet you do too. Here are 15 small towns that are ideal for a summer getaway right now.
Abilene, Kansas
Abilene, population 6,500, is as historic a spot as they come. While in town, visit the new exhibits at the Eisenhower Presidential Library and Museum and tour the Seelye Mansion, an "8 Wonders of Kansas'' winner in the architecture category, where you can bowl on a bowling alley built in 1905. Keep the historical vibes going by hopping aboard a 100-year-old steam engine on the Abilene & Smoky Valley Railroad. Before you bid the town adieu, take a spin on a 1901 C.W. Parker Carousel, the oldest operating Parker Carousel still in existence, at the Dickinson County Heritage Center. For a little rest, reserve a room at Abilene's Victorian Inn Bed & Breakfast or Engle House Bed & Breakfast.
---