11 Best Small Towns To Visit In The U.S.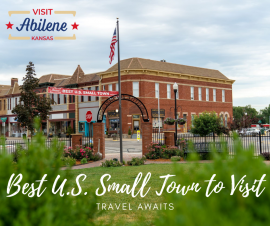 From town squares lined with family-owned shops and diners to proximity to the great outdoors, small towns across the U.S. are treasure troves of good ole' fashioned Americana. This list of our readers' favorite small towns will transport you from coastal beaches to spring-fed lakes, the expansive open air of the plains to the majestic peaks of the Rocky Mountains. So tuck in and discover what makes these small towns the best of the best.
1. Abilene, Kansas (Winner)
For the second year running, Abilene has taken the top spot in our annual Best Of Travel Awards (view the full list of winners and finalists from last year here)! Cowboy roots run deep in Abilene; cattle drives along the Chisholm Trail would end in town with cattle being sold and boarding trains bound for the East. The pockets of these early cowboys didn't stay full for long, as they spent their hard-earned money on their vices of choice. Experience some of this rich history at Old Abilene Town, or climb on board an old-fashioned steam-powered locomotive for a memorable trip. The Wild West is still alive and well in central Kansas.
There is even more to like about this historic town, including a presidential connection. President Eisenhower moved to Abilene at the age of two and considered it his hometown. Pride in Ike is visible all over town. Step back in time in Little Ike Park, where you will find a statue of his younger self, or visit the 11-foot-tall effigy outside the Eisenhower Presidential Library and Museum in all of his Supreme Commander glory. The library and museum — as well as his boyhood home — are essential stops during your visit, so don't miss them!
Once your thirst for history has been quenched, saunter around town and explore everything else that makes this such a great place to visit and live. Enjoy a tasty treat from Amanda's Bakery and Bistro, grab a bite from the award-winning La Fiesta, or head over to Old Abilene Town for a steak from the Hitching Post. Once your belly is full, stroll through the great boutiques and antique stores scattered around town. Whether you come for the day or the week, Abilene is ready to welcome you home.
---